I can't believe I wore tights yesterday. Seriously. I think today may be the hottest day of the summer so far. So crazy!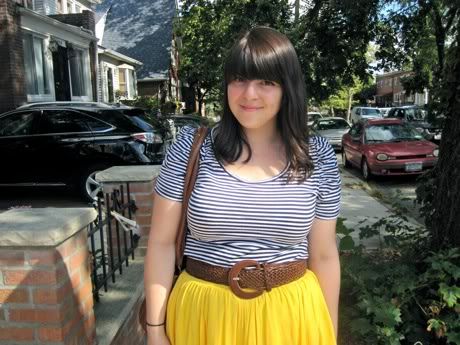 Top: H&M, Skirt: Forever 21, Sandals: Nordstrom, Belt: NY&Co, Bag: UO
I spent a lot of today driving. To my school, to stores, to anywhere. When I first got my license about a month and a half ago, you couldn't get me away from the steering wheel. I would jump at the chance to drive anywhere you needed to go, or didn't need to go for that matter. Since my accident though, I've been quite comfortable in the cozy little passenger's seat.
Immediately after my accident, staring in disbelief at my disfigured driver's side door, I assured everyone, including myself that I was not afraid to drive. I would get behind the wheel again no problem. This was not my fault, so what was there to discourage me? But as time went on, and I didn't drive, I grew comfortably passive, and uncomfortably fearful.
Today, though, I reluctantly pulled myself into the driver's seat. I started off insecure. Triple checking for oncoming traffic before proceeding through those intersections and green lights. But as I successfully thwarted highway on ramps, impatient and reckless drivers, and double parked cars I could feel myself regaining the confidence I unknowingly lost. I remembered why driving made me feel free, rather than trapped. It's a good feeling.
Thanks for reading my whole driving saga. I know it's not fashion related, but it's me related, and I want this blog to be one-hundred percent what's running through my mind.
On another note, my
headband giveaway
is open until Monday! So don't forget to enter if you haven't yet :)
Until tomorrow,
Nicole