Today was a simple summer day. I went out to lunch with my mom and family friend to Panera bread. For the record, Panera bread is not the place to go when you're attempting to lose 6 (now 4, WOOH) pounds of vacation weight. Seriously. There are cinnamon crunch and chocolate chip bagels, ridiculous paninis, and tons of pastries. Oh my goodness. I attempted to be good, and my mom and I split a delicious turkey, cheddar, and bacon hot sandwich (each half was 7 WW points, not bad). Sorry if I'm boring you with my diet speak. Let me just show you what I wore for the occasion.
Dress: Thrifted/Crossroads Trading Compant, Belt: Delia's, Shoes: UO
I got this dress while I was in California, and it's become one of my favorites quite quickly! I really love the pattern. It has tons of pretty blue and pink flowers and a few doves scattered around. I'm going to be honest about my shoes, though. I didn't actually wear these lovelies out to lunch. I still feel awkward wearing heels when I'm not attending something casual/not semi-dressy. I so desperately want to get over this though. I thought these girly wedges looked cute with the dress, though, so I wore them for the photos.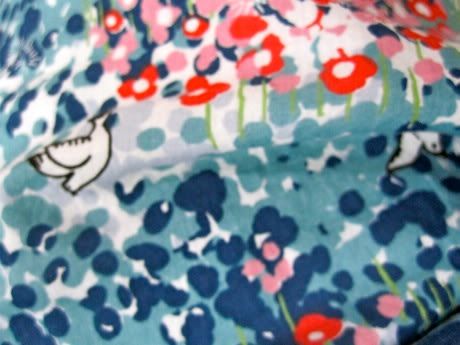 Until tomorrow,
Nicole :)