First off, I just want to thank all of you for your support and kind words on yesterday's driving post. You guys are the best :)
The other day, when a few of my high school friends came over, we were discussing our first impressions of each other and the ways we used to act and dress. One of my friends recalled thinking I was weird and kind of creepy. She immediately reinforced that she was wrong (about the creepy part), but honestly, I don't blame her nor am I surprised to hear that. When I was a freshman in high school I had a strict uniform of dark (olive or black) pants (rarely jeans) and a band tee shirt.
Shirt: Probably Hot Topic, Skirt: UO, Belt: Target, Shoes: Steve Madden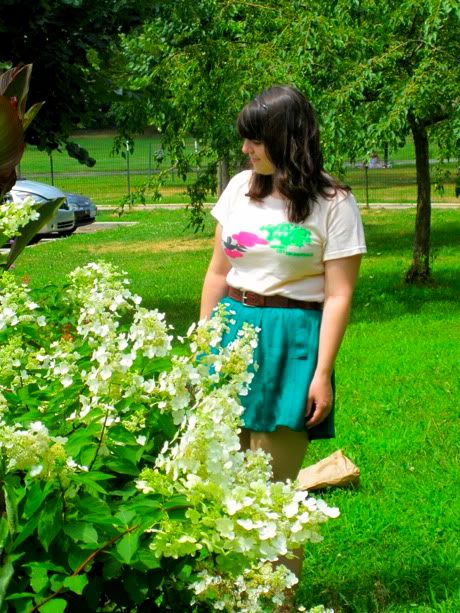 All of this reminiscing made me want to revisit some of my old clothes. While I've given most of the horrible pants away, I have kept nearly every single band tee shirt I used to wear. Seriously. I have two and a half drawers full of all different tee shirts for all different bands. I would call it a collection, but I used to wear one every single day until junior/senior year, when I started wearing what I disgustedly called "girly shirts".
I hardly ever wear tee shirts anymore, but meeting up with my friends really put me in the mood to wear one of them. I've definitely updated this tee shirt, which in the past was most often worn with skinny jeans and converse. I think tee shirts and skirts look cute together, though. And while the fourteen year old me was scowling and vomiting, I was pretty happy with it.
Also, I bought these floral knee highs when I was in San Francisco and I've been trying to figure out how to wear them. While I've seen a lot of girls wearing ankle socks with adorable outfits, I'm still iffy about them on myself.
Before I go, just a reminder!
Don't forget to enter my headband giveaway if you haven't already!
It ends Monday night :)
Until tomorrow,
Nicole :)