So, as I mentioned in yesterday's post, I visited my sister last night to show her the clothes I bought her and put outfits together for her. I had a budget of about $400 and bought her twelve pieces: 1 dress, 2 cardigans, 2 pairs of shorts, 5 shirts, and 2 skirts.
A few things to know about my sister:
1. She's in her mid twenties, so her outfits had to be mature, but cute, and not too old.
2. She's a lawyer, so her work wardrobe has to be professional, but I tried to incorporate some more color into her outfits.
3. She's adorable.
Now, onto the outfits! Most of them are more geared towards work-wear (I forgot to take pictures of the first outfit), but I think they all turned out well! She was happy with almost all of the pieces (the pencil skirt and one top have to be returned) and honestly, I think she looks adorable in all of the outfits.
This is one of the casual outfits. She's wearing a pink ruffle top and cardigan from Ann Taylor Loft and her own jeans.
Here, Cheryl's wearing an Ann Taylor loft top, and NY&Co cardigan and skirt.
Here, she started getting into the photo taking, as you can see! She's wearing and Ann Taylor loft cardigan, dress, and belt. It was difficult to get her into this belt. She was all, "but isn't it too much? I mean, a cardigan AND a belt?!". Oh, Cheryl. So, I encouraged her to try it and we agreed that it looked really nice on her!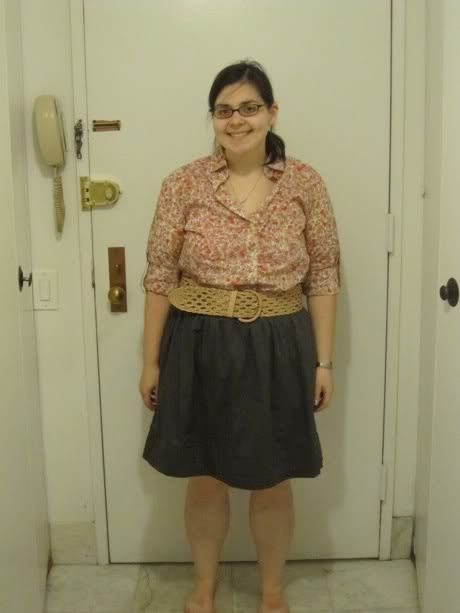 In this outfit, and the next one, I tried to style some things she already had but didn't know how to wear. This is actually a dress, with a bright pink ruffle top and a line gray skirt. She didn't love the top part, but she really liked the skirt, so I put this cute floral button down from GAP over the dress and belted it, and she really liked it/was amazed by the power of belt. Also, she looks super cute!
This is my favorite outfit that I put together for her. She was all, "I bought a navy skirt because black was too boring." And I was all, "you bought a navy skirt but were afraid of belts?!". So, navy was a little bit of a challenge, but I took this adorable peach top with flowers from Ann Taylor loft and paired it with a cream cardigan from NY&Co, and I think the result is so cute!
All in all, I earned eighty dollars (ten dollars an hour) which is not shabby at all for shopping and putting outfits together (things I already love to do!). I hope you like these outfits, I had a really fun time putting them together and making this post!
Also! I will be going to Cape Cod with my boyfriend's family tomorrow! There's no internet (boo!) so my bloggy presence will be scarce. I'll have another post (probably sunday) of today's outfit and a now, which I'm leaving right now to go get! I hope you all have great weekends :)
-Nicole