Hello! So, a few weeks ago I came across
this tutorial
by Carrie at Wish Wish Wish and knew I just had to make my own sweet little floral headband. So, I went to the craft store, got some materials, and voila
I'm actually pretty happy with how it turned out. Since I wanted the headband to be the focal point of my outfit today, I decided to keep it very simple. There's something I love about seeing sunflowers and the color blue together (is that weird?), so I put on this blue and white sundress and finished the look off with some sandals.
Dress: UO, Sandals: Steve Madden
I decided to take some pictures today at this huge park pretty close to where I live. I've hardly been there, but it's a really nice place to walk around and take in the sun and a nice breeze. As I was taking these photos I was spotting some other locations that I can't wait to show you guys :)
Now, onto the
giveaway!
I'm so excited you guys! After I made my headband I had a lot of extra materials. So, I decided to make another headband to giveaway to one of my readers as a thank you for being so supportive!
Here's the headband I'm giving away! It's purple with two gold leaves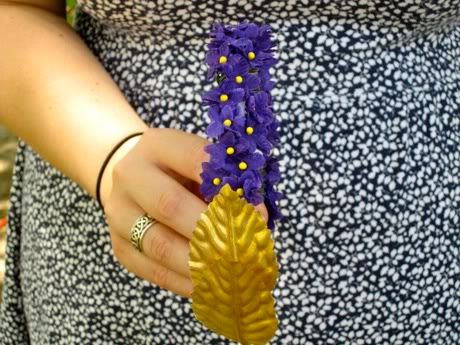 How to win!
Simply follow my blog and leave a comment on this post telling me your favorite flower or your favorite poem (or both!) and an email address I can contact you at if you win!
The giveaway will end Monday night, and I'll announce the winner on Tuesday! I'm so excited to send this little headband off to one of you as a thank you for your support! :)
Until tomorrow,
Nicole