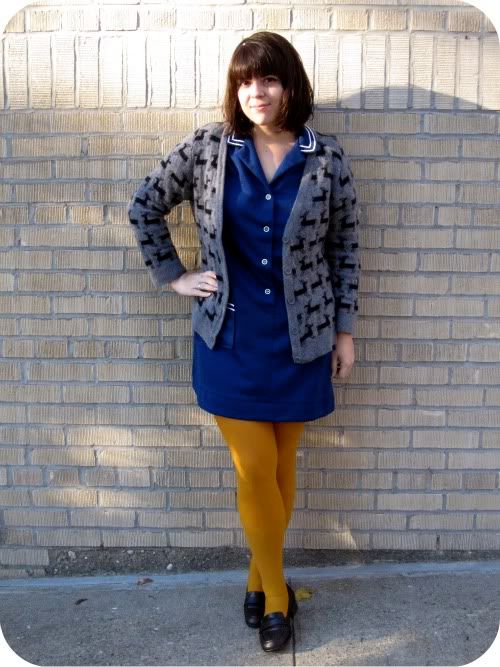 I know that the lighting is a little weird in these photos, as in my face is semi-illuminated, but it's mainly because today was my first day of snapping morning photos (hooray!) so I need to get used to how the lighting is in my usual photo spots in the early morning. I know I've kind of been bringing this up all week, but it feels a little bit like I'm dressing a different person every morning. I mean, clearly I like all of these outfits or I wouldn't be wearing them at all, but this week every outfit I put together feels so distinct, and it's making me feel a little weird. I mean, it probably has to do with the contents of my closet, which are a smattering of various strong phases in my life. First there was the "guidette phase" in grammar school (I'd rather not go into the details, such as my velour track suit and bang-poof), then there was the gothic punk phase (Green Day tee shirts, cargo pants, and smeary eyeliner), then the band-groupie scenester phase (skinny jeans, thank goodness, and girly band tees). Then I started to ease my way into what I called "girly shirts". It's really funny to think about how
appalled
I was at wearing a lacy polka dot shirt, considering the way I dress now.
That turned into a really girly phase eventually, which coincided with my interest in fashion blogging and putting outfits together. Now, though, I feel like I'm kind of into a vintage, girly but not overly so, roughish-mensweary, victorian phase. Clearly, the most straight forward of any of my phases.. My closet, though, is still catching up with me, though. I don't want to buy a whole mess of new clothes, so I'm trying to make what I have work for me, but it kind of leads to a lot of exploring through my outfits, and a lot of different looks. I think everything I put on is "me" persay, because how couldn't it be if I put it together and like wearing it, but part of me wants a coherent style where all the aspects I described a few sentences ago can happily mingle in cute outfit-ness.
Well, that turned into a large style ramble, so I'll keep my outfit description short. I really like this dress because it kind of makes me feel like a flight attendant thirty years ago, and I think that's cool. This reindeer sweater doesn't get a whole ton of wear because it's kind of sheddy and furry (like reindeer?) but I like the weird touch it adds to an outfit, and this morning I felt like being a little kooky. Apparently kooky is a dictionary word. Sheddy, however, is not.
Dress: Salvation Army
Sweater: H&M
Tights: Hue
Shoes: Mom's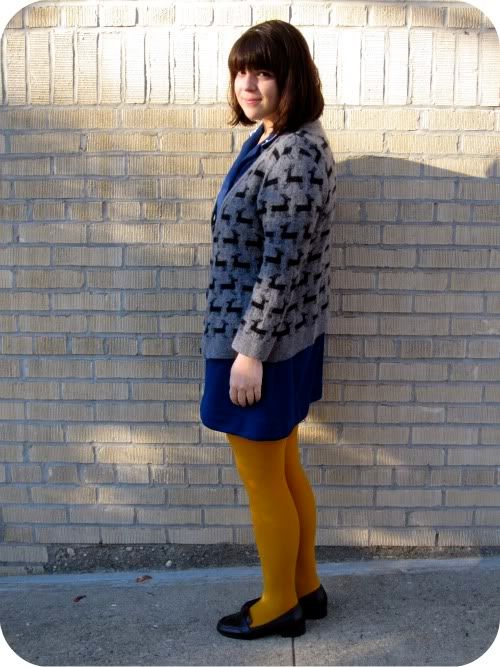 Until tomorrow,
Nicole