Hello there! Well, I was absent in the bloggy world this weekend because Friday was my birthday! I really had a lovely day. Unfortunately, lovely birthday celebrations on Friday and Saturday make for Sundays and Mondays spent making up lots of work. Boo! So, I'll leave you with a few (very few because I never seem to take pictures much when I'm out and about) photos from my birthday. I met up with a few friends, and we went bowling and got some dinner. Bowling was a lot of fun, but I have no pictures of it! I actually ended up winning the game (hooray!) with a magnificent score of...eighty-five? So yeah, you can guess how, um, well, we all did. I made sure to ask if they let me win, and they all said they didn't, but instead I won because I'm "the birthday princess" (you can see the silly sash in that first photo up there..)
Dress: Forever 21, Tights: Hue, Boots: Urban Outfitters, Necklace: JCPenney, Sash: Target
So, I knew that once I got downtown it would be dark out and I'd space on getting more outfit pictures, so I made sure to get one decent one before I left. I have been longing for more velvet in my fall wardrobe, and one I saw this dress on Forever 21's website I knew I had to have it. I somehow put off wearing it until my birthday. It's really comfy and soft and just the velvet my wardrobe needed.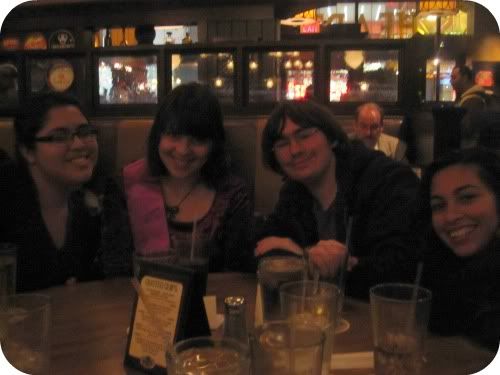 All the pictures taken at the restaurant are grainy and awful because of the weird lighting, but luckily the food and company were just wonderful. We went to Heartland Brewery, and had a lovely meal. From left to right, my friend Charlotte, Me, Zak, and my friend Gerlin.
Now a photo of just the ladies, taken by Zak. It was really nice getting together like this because I haven't seen most of these girls in such a long time. And looking at my face in these photos makes me see how happy I really was that night, with wonderful company having a great time.
A silly coaster that my friends made me sort of steal (we're not sure if we were allowed to take them...). No worries, though. No ale was drunk on my birthday, I just found the silly pumpkin man endearing.
And a yummy key lime pie for dessert! Or, should I say, first dessert... When I got home, my family, Zak, Charlotte, and I indulged in a delicious Fudgy the Whale cake from carvel. DELICIOUS.
All in all, I had a lovely birthday. Tomorrow, I'll have a little post about Saturday's outfit/celebration since I went out with my family that day. Now, though, I really should get back to work. Fingers crossed that after Tuesday things slow down just enough so I can get my head back together and get back to blogging normally!
Until tomorrow,
Nicole