Hello there! You've probably noticed an unfamiliar face in my post today. That would be my mom! She's included in today's post because today is the one year anniversary of when we both started Weight Watchers. I'm excited that I can recognize today as a special day. I want to dedicate this post to my weight loss, my many struggles, and my successes. So let's start from the beginning..
This is my mom and I about a year and a half ago, taking pictures for my prom. I weighed about 190 pounds, and my mom weighed around 260. We were both feeling extremely unhealthy and unhappy about it. We had both tried to lose weight, but we would both always end up quitting. Food was too tempting. Now, though, I was nearing 200 pounds, which was scary for me, but I didn't agree with the scale. When I looked in the mirror, I didn't see 190 pounds looking back at me. I was confused, but since I didn't see myself as overweight, I also didn't see the need to lose weight. My mom knew she had to lose weight though. She told me around thanksgiving that she was going on weight watchers, for real this time, and I believed her. I also joined her, saying that losing a few pounds wouldn't be such a bad thing.
Fast Forward a year and my mom has lost nearly seventy pounds. She's now around 190, which is where I
started
. She really has been incredible about this whole thing. She's the reason I didn't quit. She makes low calorie dinners nearly every night. She hardly ever orders dessert when we go out. She's always the one to tell me, "You don't really want to eat that food." And it shows. She's now in regular sizes instead of plus size. I'm so proud of her. She really did set her mind to her weight loss, and it worked. It 100% worked.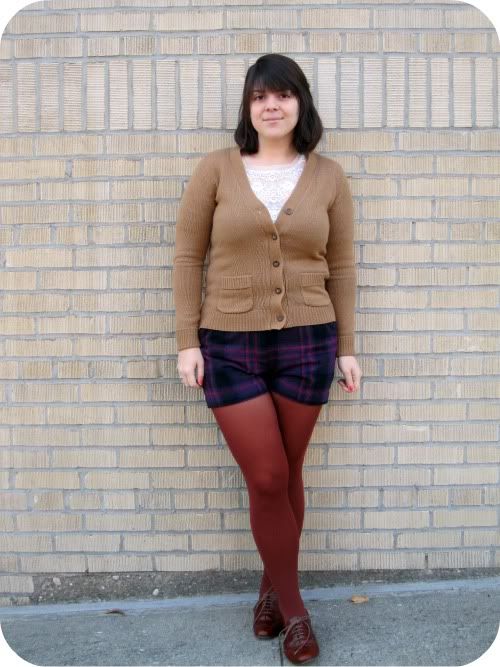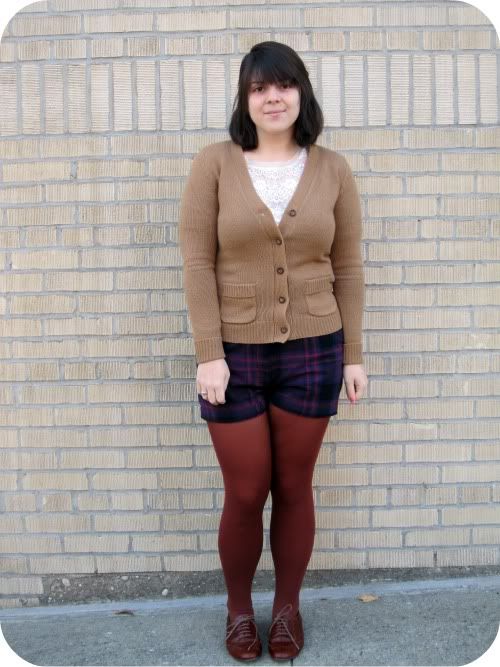 Top: Forever 21, Sweater: Zara, Shorts: UO, Tights: Hue, Shoes: Steve Madden
Now, I weight about 32 pounds lighter, depending on the day. The lowest I've been was last week at 158. The problem is, I don't see much of a change. I know that my old jeans and skirts and shirts are too big on me. I know that I'm currently a size ten instead of a size sixteen, a medium instead of an extra large. But I don't look different. Every know and than I'll notice that my hips look thinner, or my arms, but I don't see a dramatic difference in my weight or appearance. It's probably because I started off thinking I didn't look that big. This whole process really has been full of ups and downs. Just this morning I weighed in at 160, but I don't put much stock in it. I know I ate a lot this weekend because it was a holiday, and I can just hope that weight will be gone by next weigh in. I'm just a bit disappointed in myself. I know I could have lost more if I tried harder. I had dessert when we went out to dinner. I couldn't resist having a second piece of cake on my birthday. I go out to dinner with Zak and go off plan at least once a week. I lost most of my weight in the first six months on this diet, and lately I've just been hovering around 158.
My ultimate goal is 145. I'm going to continue with weight watchers, hopefully more diligently, for at least another year. I'm so proud of my mom and myself for sticking with this, even though it was hardly easy.
Oh yeah, and don't forget to enter my
Black Friday Giveaway
if you haven't yet. It ends tomorrow night!
Until tomorrow,
Nicole