Hello there everyone! I actually wrote up this little post last night, as I'll probably be off baking way too many pumpkin desserts for six people when this gets posted! There are two reasons I love Thanksgiving. One is pumpkin. Pumpkin is probably my favorite flavor everything (at least desert wise) and there is so much pumpkin to be found on Thanksgiving! The other reason would have to be the opportunity to reflect on all of the wonderful people and experiences I've had in my life during the past year. I decided that I wanted to make a list of everything and everyone I'm thankful for in this post. I like the idea of having this list of wonderful blessings that I can look back on every now and then when I'm in a sour-puss mood, so I can immediately realize that things aren't as bad as I think :)
So, here goes nothing!
What I'm Thankful For
-
My mother
, for a million reasons. For putting up with my cowardice and self-doubt, for taking me to the Salvation Army even though she thinks it's dirty, for picking me up from school when it's thunder storming, for making me giggle when she's acting silly, for making me dinner, for telling me that she loves me even when I'm difficult (which is often). She does everything for me, and for everyone else. She is the most self-less person I know, and I'm honored to have her as my mom.
-
Zak
. I don't even know where to begin. He's not only my boyfriend, but genuinely my best friend. I've felt at so many points in my life so different from everyone. Even with friends, I hardly feel like I ever truly fit with anyone. Then came Zak. He is my perfect fit. He is self-less, and kind, and so so strong. He's been sick for as long as I've known him, but he's always there to make me happy, make me laugh, make me smile. I would love to be as good of a girlfriend to him as he is a boyfriend to me. He is the most wonderful person.
-
My sister, Cheryl
, for being so different but so similar to me. We share a personality. Whenever I get concerned that I'm acting too much like a six year old, I look at her making silly noises and faces at her husbands and I'm immediately reassured. She is so driven, and so sweet, all at once. I'll miss her when she's in California this Thanksgiving, but I feel so spoiled to be having her home for Christmas!
-
My brother, Anthony
. When I found out he reads my blog, I almost cried (maybe I did, just a little). He moved to California last year, and when he left, I immediately regretted not spending more time with him. I'm so thankful to have him in my life as an example that you can really do what you want, and follow your dreams. People can tell you what they think you should do, but you don't have to do it. You can do what
you
, however you want to, and be one hundred percent happy. I admire his courage in picking up and moving across the country, and I hope to join him over there some day.
-
Charlotte
, for being my closest friend. She is one of the nicest, most self-less people I know. She tells me that she values my friendship, and every time she does I well up because I've had so much trouble with friends this year.
-
Lori Ziesel
, my second mother, for being a second mother. Seriously. She is supportive, and sweet, and an inspiration.
-
Matt and Josh
, for always being my little brothers.
-
Poetry,
for constantly pushing me, driving me crazy, making me feel so fulfilled, making me feel whole, and making me feel albeit rarely that I'm doing something right
-
Harry Potter
, for being absolutely wonderful.
-
Cupcakes
, for being so delicious. I hope I follow through on my literary themed bake shop some day. I really do.
-B
ill Shullenberger
, my literature professor, for listening to me talk about my life for half an hour when I am supposed to be talking to him about my final project, for being so nice and kind that it's hard to believe he's real, and for making me laugh and thinking I'm smart.
-
My philosophy teacher
, for giving me an amount of wisdom to aspire to and for making me think like I've never thought before, even though it drives me crazy quite often.
-
My poetry professor
, for being encouraging and telling me that I can write poetry.
-
My three favorite high school teachers
who STILL encourage me, though it's been a year and a half since I left, who still support me, and who still believe in me. They are so much of the reason I am what I am and where I am today.
-
My weight loss
, though I never would have accomplished it without my mother constantly telling me that I don't REALLY want cupcakes or fried chicken or macaroni and cheese (I always did actually want them). It's nice to be thirty two pounds lighter.
-
This blog and the wonderful people I've met through it.
When I started this blog, I deleted it the same night just because I thought I couldn't do it. I remade it the next day, and am still going at it. The best part, though, is you all. You are so supportive and so genuinely nice that I can't imagine not having kept my blog going.
-
My career counselor
for making assuring me that I'm not as behind as I thought I was.
-
My bunny rabbit
for being so damn adorable, weird, and hungry.
-
Paulo Coelho
and his novels for changing my perspective.
-
My college
, and that I stuck with it instead of running away.
-
Dead Poet's Society
and
Singing In the Rain
-
Cozy sweaters and blankets
on cold days and nights.
-Every
stranger
who's smiled at me, held a door open for me, or looked out for me in any way when they didn't even know me. I hope to be like them every day.
I'm sure I'm missing one million obvious things, but this is a list of some things and people that mean the most to me, that make me happy, that keep me going. What are you all thankful for? :)
Dress: Salvation Army
Tights: Hue
Belt: Target
Boots: Urban Outfitters
Hair Clip: DIY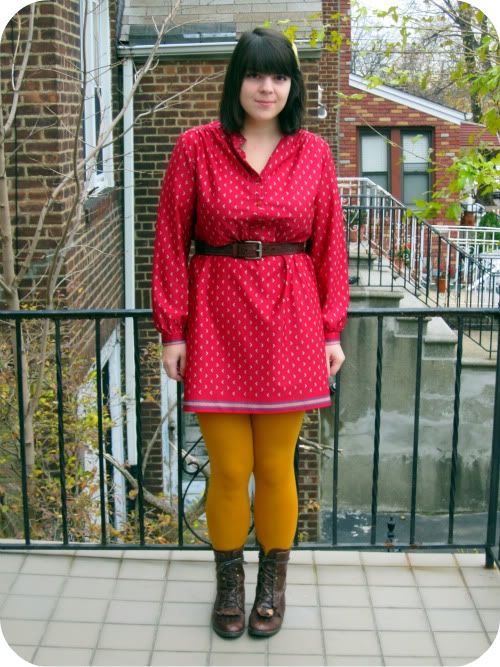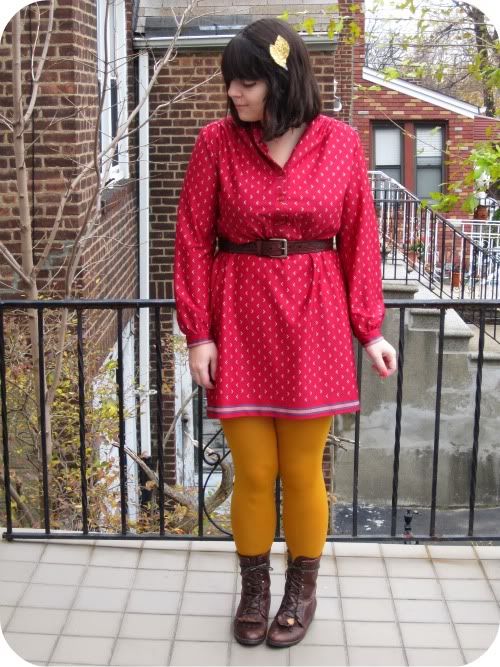 I hope you all have a WONDERFUL Thanksgiving!
Until tomorrow,
Nicole