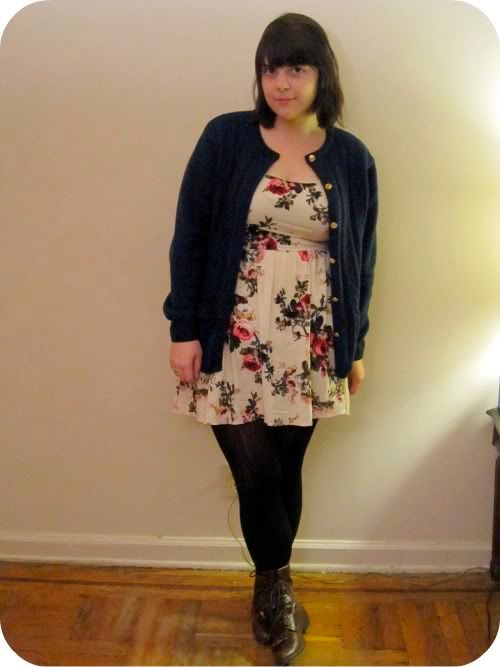 So, it turns out that "grunge flower" doesn't sound as much like "sunflower" as I previously thought. Oh well, it's still appropriate considering my grungey, flowery outfit. It also turns out that daylight savings time is pretty inconvenient. It's dark out before I even leave school at five o clock! Oh my goodness. This means no more snapping photos when I get home at night. And today, it meant photos inside. I apologize for the grainy quality/wonky lighting. There was a lot of playing around with various lamps during this little photo shoot.. I think I'm going to start taking photos in the morning before I leave so I don't end up taking bad-quality photos inside. We'll see how that goes!
Now, onto the outfit. I actually thrifted this cardigan a few weeks ago at the Salvation Army. I think it was a lovely find. I have very little green in my wardrobe, and this dark green cardigan is a nice addition. It's even got little gold buttons! And and and it's super warm, which is always nice when it's unseasonably cold (forties and snow already, what?!). I knew I wanted to wear this cardigan today, and I thought that the green paired nicely with the creme color and flowers of the dress. Also, I've kind of been living in these boots. Or, at least, my feet have been living in these boots. I'm pretty sure they're on my feet in nearly all of my recent outfit photos! Oops!
Dress: Swap with Amber Rose, Sweater: Salvation Army, Tights: Generic, Boots: Urban Outfitters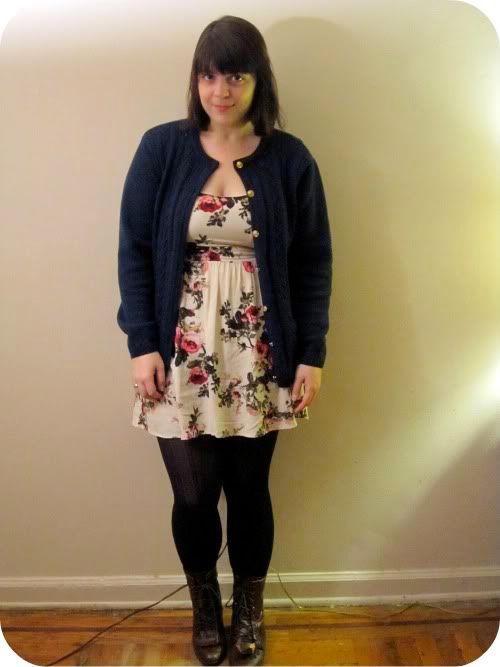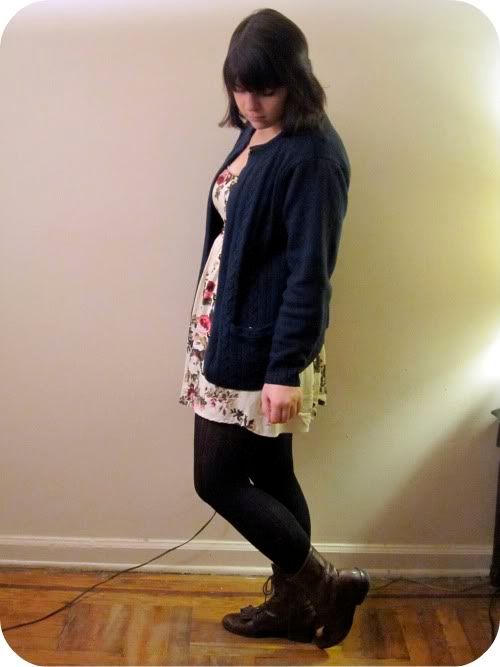 Also, I feel like I haven't shared a poem in ages! Since I'm currently in a bit of a poetry mode, as my poetry workshop is tomorrow, I'll share one that I wrote to share for class tomorrow. Our assignment this week was to write a narrative poem, or basically just a poem that tells a little story. My story is a short one. It's also a more lighthearted one. It's funny. I feel like most of the poetry I share on this blog is pretty light, but in reality I really write a mix of happy and dark things. Maybe I'll share a darker one with you guys next time :)
San Francisco, July 2010
Zak pushed me into the water
And I laughed, splashing and pulling him down
By the ripped collar of his gray tee –
We are always too rough
Like children in playrooms, sand boxes.
As we stumbled to our feet,
Sunken in sand and wet,
I could see the jellyfish glowing,
Like bay windows in the afternoon,
Perfectly clear, nearly
Begging for nonexistance.
Zak cupped one up
In his round hands,
Being always the braver half,
And we watched the ball of dripping light
Roll like a breeze,
Finger tips to wrist, and again
Until he let it slide
Back to its endless home.
We stood together,
Hardly aware
We were covered in it,
Buried in it, now.
Until tomorrow,
Nicole