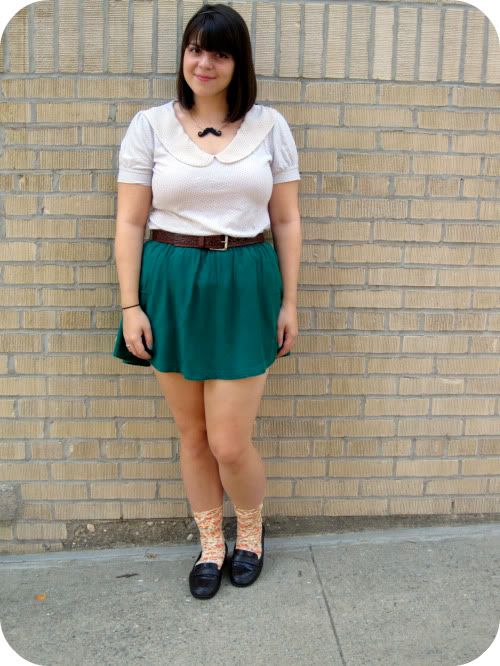 I am so happy for this week to be drawing to a close! School has been making me feel all sorts of overwhelmed. Mainly it's my genius of a philosophy teacher, as my brain is too tiny for his grand thoughts and I'm kind of just barely grasping the crazy things he's saying about Aristotle. Oh goodness!
Shirt, Skirt: Urban Outfitters, Belt: Target, Shoes: Mom's, Necklace: Modcloth
Anyway, if outfit looks familiar, it's because it's nearly identical to the second outfit I posted on this blog, ever. Oh, memories (even though it's really only been 4 months..). I think it's kind of funny that I haven't worn this shirt in a while, but when I finally decided to wear it again I paired it with the skirt I wore the first time I wore the shirt. That was a very wordy sentence. I just added some little floral socks ("for a pop of color!" as my mother triumphantly remarked) and some penny loafers to switch it up.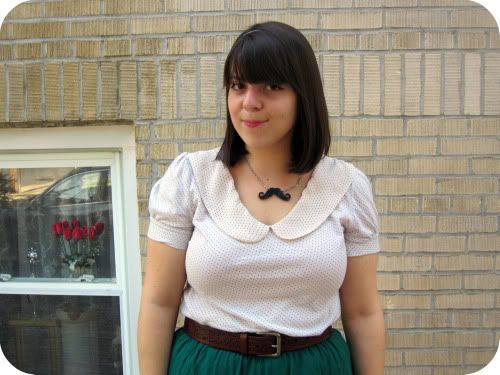 I'd like to share a little story about my mustache necklace. I wore it to class yesterday, and as I was talking with my friend and leaving class, my teacher stopped me and remarked that he saw my necklace, and that it was cool. I was flattered, and thanked him. He then was all "So, do you ever hold it up to your face and pretend you have a mustache?" and I was all "OF COURSE." Then he said "Well, let's see it then!" and so I preceded to hold the mustache up to my face, which garnered a laugh and that it was cool. For the record, this is the cool teacher who wears bolo ties sometimes, not the crazy ridiculous philoso-man mentioned previously in this post.
Well, I'm off to eat and not do any work whatsoever (but maybe a little if I feel guilty). I hope you all have lovely weekends!
-Nicole