Hello! So, today began as one of those where EVERYTHING made me super duper over-emotional: the morning traffic, the driver in the bus lane who shouldn't have been in the bus lane, the girl who walked through the exit door when I was holding the entrance door open for her (seriously, who DOES that?!). BUT luckily I realized about halfway through the day that I was being a big silly pants and tried to make the best of everything. Also luckily, I was wearing I dress I felt cute in. Though, I was told I looked like a stewardess (my mom quickly assured me it was a CUTE stewardess) as well as a grandma (Zak quickly assured me it was a CUTE grandma),I didn't care!
Dress: Salvation Army, Belt: Delia's, Cardigan: H&M, Shoes: Minnetonka
This dress was one of my Salvation Army finds. Despite being long and poofy, it reminded me of a sailer, and I enjoy sailer related clothes so, voi la, I bought it! I seriously want to go back there and stock up on oversized sweaters and maybe a blazer or two for the cooler months.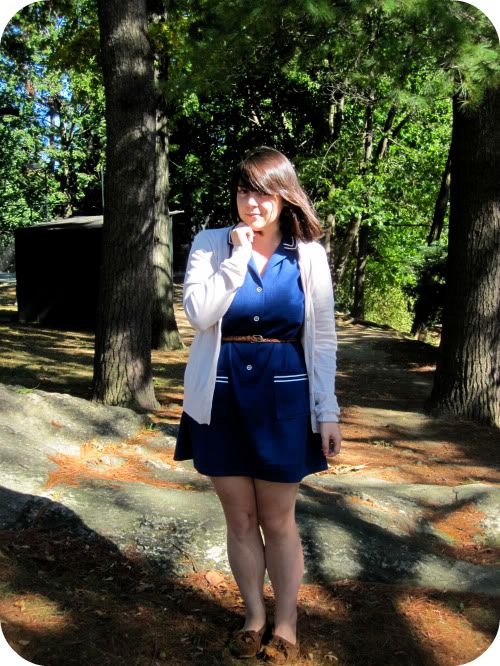 Also, I voted for the first time today! I currently feel extremely self-important. It's only the primaries, but my US History teacher in high school, whom I love dearly, told us we absolutely needed to vote in every election we could because so many woman fought incredibly hard to get us the right do so. And honestly, we would all be complaining if we couldn't vote and men could, so I want to try and vote as often as I can.
Until tomorrow,
Nicole