Hello! Today has been wonderfully lazy. I've really only done some work and gone food shopping. Exciting, I know. BUT, I may be going shopping this weekend to do some shopping for my sister (yay, income!) and maybe just a little for myself as well! There are a few pieces I would just really like to have in my closet for fall, one of which is a black cardigan. My cardigan collection is really spotty, as I'm finding out now that I'm wearing more and more sweaters. I would also really like to find an affordable pair of oxfords. I've almost purchased the steve madden tuxxedo oxfords about eight hundred times, then backed out at the last second. I just have a problem with spending eighty dollars on some oxfords. Are there any items you're longing to have in your fall wardrobe?
Top: Forever 21, Jeans: Levi's, Boots: Delia's, Belt: Purse strap
I felt super duper seventies in this outfit, but I'm not sure why. I think it was really just my mom's amazing old glasses and my hair, which I attempted to curl but it just ended up kind of poof-wavy. I'm pretty sure I love wearing my mom's old glasses way too much. The other day, she handed me a plastic bag full of her old, super-oversized glasses and I squealed/immediately tried them on. This pair is one of my favorites :)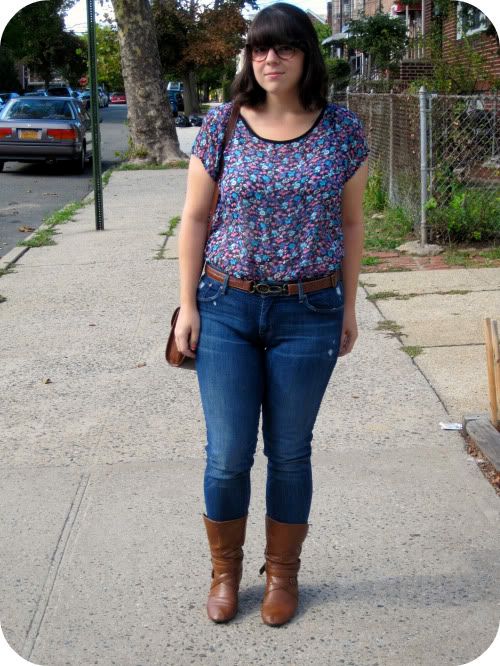 I hope you all have wonderful weekends!
-Nicole