Boy howdy am I tired! So tired, in fact, that I just started a post with "boy howdy." Oh, goodness. This week has been tiring, what with copious amounts of work and commuting during peak rush hour times. But, hooray, I'm done for the week! Also,on an only semi related note, a few classes ago I noticed that one of my teachers has a pocket watch and one of them wore a bolo tie. I bring this up only because I think it's cool that I have teachers that like quirky, outdated things. Also also, I'm now on the hunt for a pocket watch.
Dress: Modcloth, Sweater: Thrifted, Tights: Macy's, Heels: Madden Girl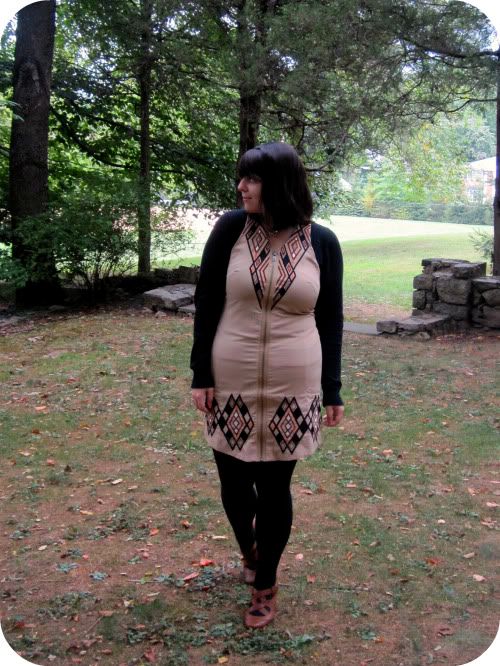 So, I purchased this dress during modcloth's crazy 70% off sale last week. I had been eyeing it for months but it was way out of my price range and, honestly, it's not really similar to what I usually wear (though, I seem to dress extremely differently from day to day anyway so maybe this point is invalid..). But, huzzah, it was on sale for super cheap so I decided to buy it (the last one in my size, may I add). It was more form fitting than I expected it to be, and I'm slightly uncomfortable with it showing off all my lady-assets, but I still like the dress. I knew I wanted to layer under it rather than over, and I have a whole nother look planned based on the layering. But today, I decided to go super neutral and dark, also sort of unlike me, but I like how it came out.
I'm sorry that I'm lacking in magical adventures to share with you. Honestly, I'm quite pooped and am about ready to plop down on the couch and watch the top chef season finale that hasn't yet been spoiled for me.
Until tomorrow,
Nicole :)