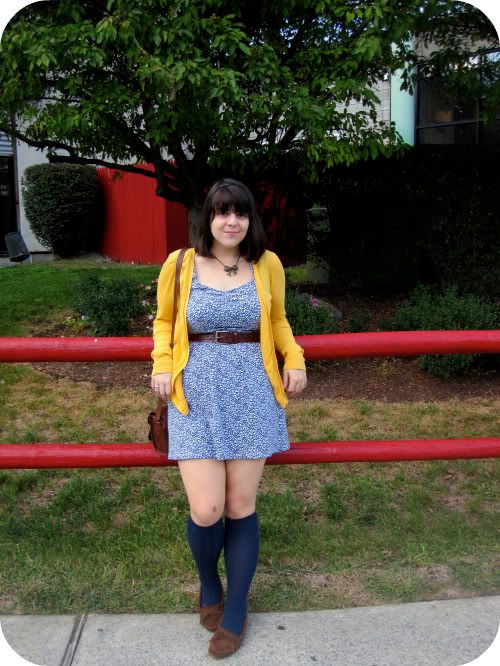 Hello! So, yesterday was super lazy, since I had a whole bunch of Iliad to read, among other things. But on Saturday, Zak and I decided to head out and play some mini golf (one of our most favorite things). In Cape Cod, Zak and his family play a whole lot, and I mean a WHOLE lot of mini golf, and they get super duper competitive about it (there was a scoresheet and bonus points...) but Zak and I aren't so into the competitiveness. So, we played two games and only kept score for one, and we really had a good time! So much so that I don't even mind that I very obviously lost, even when we weren't keeping score :)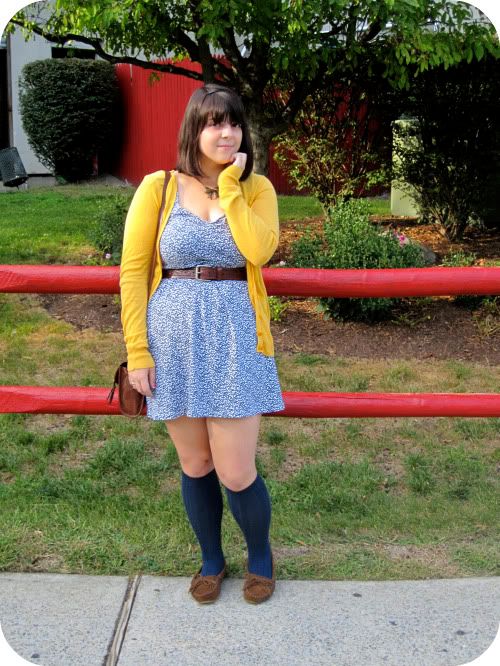 Dress: Urban Outfitters, Sweater: H&M, Belt: Target, Knee Socks: ?, Moccasins: Minnetonka, Necklace: JCPenney
So, I finally decided to try out the knee socks trend! I've been tentative to do so, despite seeing many lovely bloggers wearing them well. This is in part because I went to Catholic school for 13 years and had to wear knee socks all the time. Honestly, though, I remember cleaning out my sock drawer after I graduated, getting rid of a bunch of navy and maroon tights and knee socks, and being kind of sad to let go of wearing knee socks. So, when I was getting dressed on Saturday I was searching for a pair of navy tights to wear, but I couldn't find any. I did, however, come across my lovely navy knee socks, and once I put them on I knew I had to wear them. I really thought I would feel self-conscious wearing them, but I was actually really comfortable and happy with my outfit.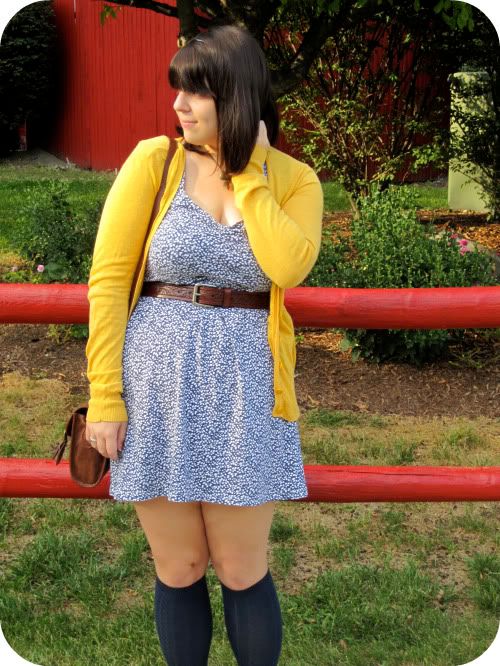 So, I'm in a bit of a tizzy because of my poetry assignment this week (to write a poem with vivid, concrete imagery and not a lot of feeling WHAT?). It's frustrating to have the allotted time to do work, but to not have an idea to write about. OOF! I'm also in a bit of a tizzy due to a dream I had this morning. I guess that's what I get for hitting snooze eighteen times. I had just shut my alarm, convinced I would get up in a minute, when I fell alseep and had a dream that made me miss people I had already been missing and become concerned over relationships I've already been concerned with. Oh, goodness.
Well, I hope you all had lovely weekends and are not in any sort of tizzies!
Until tomorrow,
Nicole