Hello there! So, the title of this post is my way of saying that this post is going to get kind of personal, so feel free to back out while you still can. This post has kind of been a long time coming, and I feel like I just can't put it off any longer. So, I'll just say it.
Hello, my name is Nicole, and I have body image issues.
That's not surprising, since I'm sure we all have them, but I wanted to take time on my blog to talk about them, and what I'm dealing with. As most of you know, about a year and a half ago I started weight watchers, and since then I've lost about 38 pounds to date. I went from a size 14 to a size 8. I'm proud of myself, but not enough to be proud of my appearance. I was a chubby kid. I wore the biggest size in clothes, and was constantly told by my grandmother that I was too fat and needed to lose weight. I never listened to her. When I decided to lose weight, it was my own choice, and a good one for me at that. Now, though, I feel like the bigger battle is starting for me.
Now that I'm at a weight that I'm happy with, I have to maintain that weight. And the anxiety of possibly screwing up and gaining back what it took so long for me to get rid of is really getting to me. I'm constantly analyzing the size of my tummy to make sure it doesn't look any bigger than the day before, and trying on my smallest dresses to make sure they fit. This is quite the opposite of healthy, and I know that, which is why I've decided to write about it. Weight loss is supposed to make you feel better, happier and healthier. I have felt all of those things and do every day. But, I can't help but think of my childhood, my grandmother's harsh words (though I have an EXTREMELY supportive group of family and friends around me), and I just can't help but grow anxious at the possibility of failing. Once again, I'm not looking for sympathy or anything like that. But you guys have always been so warm and kind to me, and I feel comfortable sharing my struggles with you. I'm hoping that in time I'll be able to get a grip on my anxieties and fears of gaining weight back, get rid of the notion that weight gain is failure, and ultimately grow to absolutely love my body no matter what size it is. I know it won't be easy, but I'm looking forward to achieving those goals.
Dress, Hat: Modcloth
Sweater, Shoes: Urban Outfitters
Tights: Hue + DIY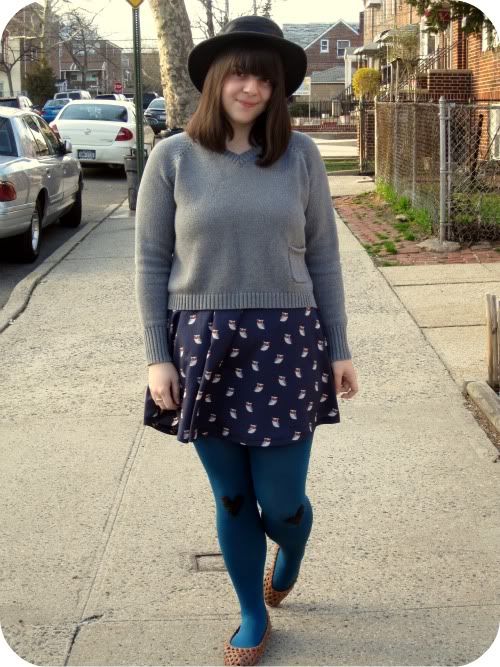 Until Tomorrow,
Nicole