So, this morning's got me feeling like a huge klutz. I kept dropping things like my CAMERA which is thankfully okay and I even left my wallet at home. Hooray! I'm going to blame it on getting hardly any sleep last night due to my worries due to my poetry class due to my teacher. So, really, it's his fault right? Glad we're all in agreement. Oh, it's really my fault that I worry so much, so even in jest I shouldn't pin my anxiety on anyone but myself. School's got me feeling all sorts of incompetent, but mainly my poetry class is making me insane. My teacher gave me a lecture about participating in class AND LIFE and kept calling on me all class because I wouldn't raise my hand. Also, my only thoughts for today's poetry assignment are to write a poem addressed to a homeless man that bumped into me in Manhattan. I don't even know, okay. Maybe I'll share it if I go completely crazy, which I'm sure I will by class tomorrow.
Anyway, now that I've whined/ talked about hobos for a good five minutes, I should talk about my clothes. I picked up not one, but two of these cardigans on sale at Urban Outfitters after seeing one on
Michal's blog
the other day. I'm actually wearing one again today because they're just so comfy and warm, and it's freezing out, and at 7 AM I want comfy and warm and nothing else. Well, maybe a bagel, too.
Top, Belt: Delia's
Skirt, Sweater, Shoes: Urban Outfitters
Tights: Hue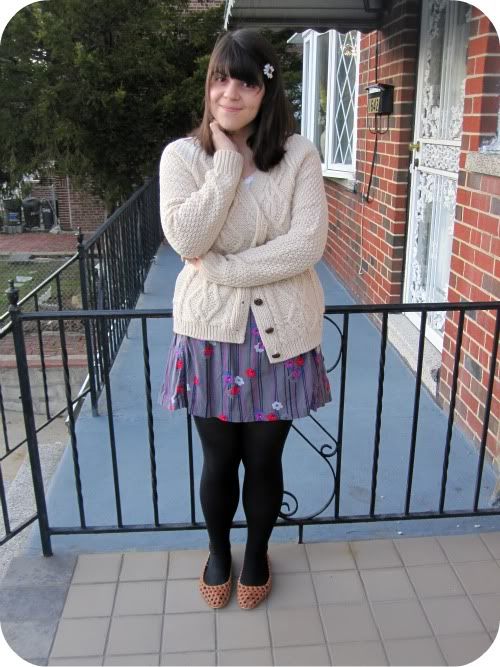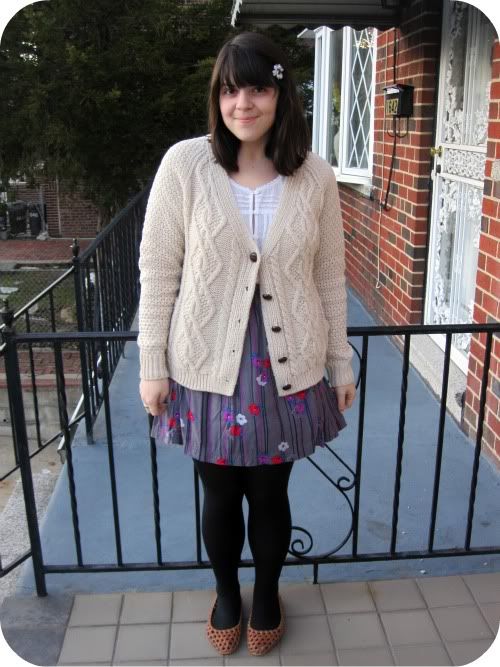 Until Tomorrow,
Nicole