If you were expecting a post concerning The Clash the band, then I am sorry to dissappoint. Rather, this post's title is a reference to my slightly zany combination of floral, sequin, and polka dots. And don't get me started on the colors. I often shy away from wearing my one pair of rain (SNOW) boots due to their obnoxious coloring. They're really hard to match to an outfit, and I'm sure if I tried hard enough, I could come up with a cohesive outfit, but I'm not a big fan of wearing turquoise on my torso or otherwise. Today though, I said "WHAT THE HAY?!" and just went for it. I put the outfit together first, and wasn't sure what to do about shoes. I was slipping on campus yesterday when I had to face only snow, so my regular boots were not going to cut it today, when ICE CRYSTALS were raining down from the sky. Hence, rain boots. And to be honest, there was something I greatly enjoyed about how starkly they contrasted with the rest of my outfit. Go figure.
Also, just noticed this now, but the sequins on my shoulders kind of look like snow in these photos. Because, you know, I need more snow in my life. Don't get me wrong, though, I love snow. A lot of people are real sick of winter and ready for spring, and every now and then I find myself agreeing. But, there are so many things about winter that are special - hot coco, blankets, reading and watching the snow falling outside, blaming your insatiable desire to eat on the weather. All wonderful! And I'm not ready to give those things up - especially that last one, I've been eating cookies ALL DAY...because it's snowing out? - for spring just yet.
Also!
I've been wanting to do a video blog after seeing so many of you lovely ladies do such awesome ones! So I figured I could maybe do a Q&A type deal. So, if you have any questions for me, leave 'em in your comments! Excitement!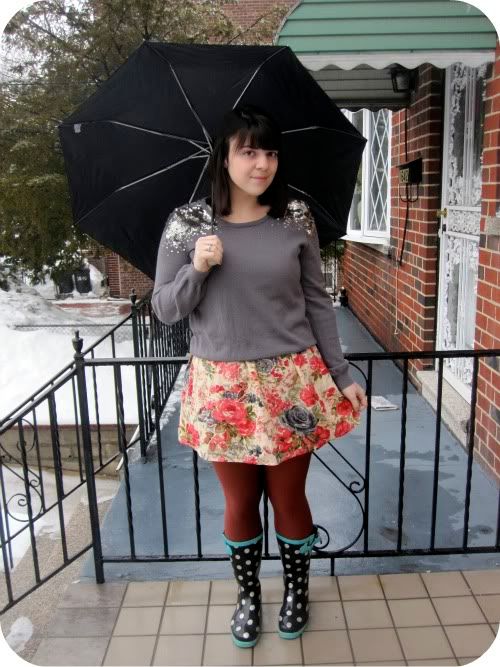 (Umbrella added for emphasis)
Until tomorrow,
Nicole