Hello there! Today has been positively yucky
all day
. It's been raining and wind...ing? since last night, which is why I have crummy indoor photos again. But at least there are photos! I kind of felt like a school girl in this get up, because skirt plus button down plus knee highs kind of was my real uniform for about twelve years. Also, you might not be able to tell, but my knee socks are actually brown, not black like they look in the photos. Also also, I have to confess that I changed from knee highs to tights after these photos because the weather was just not as knee high friendly as the outfit was.
It's kind of funny. I had to drive myself to school today through some very bad conditions. I've hardly ever driven in rain, especially horrible rain, so I was really nervous driving today. I got in the car, and every Wednesday when I leave for school, my favorite radio station plays a "block" of beatles songs. So, that made me feel much better. But then, as I was driving, I noticed how the wind was making everything sway. The trees, the stop lights. It looked like they were swaying with me to the Beatles music that was playing with my car, and I couldn't stop smiling once I realized it. It's funny how sometimes, you think life if throwing things at you just to mess with you and make life harder, but it always (usually) seems to make it up to you in little things, like Beatles music and dancing trees.
Top: Nordstrom Rack
Skirt: Urban Outfitters
Sweater: H&M
Knee Highs: Delia's
Shoes: Steve Madden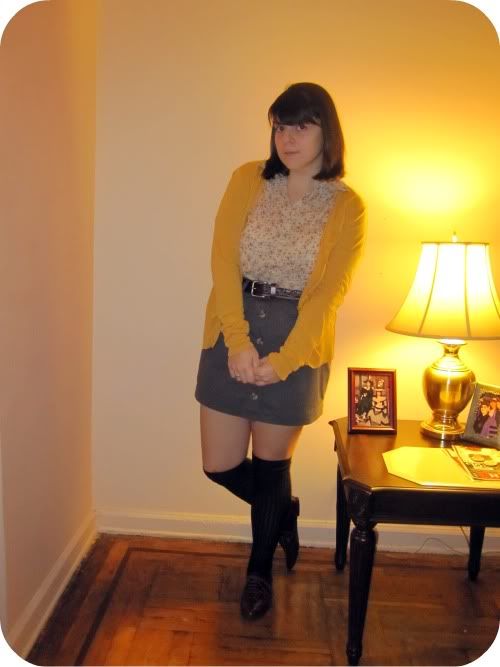 ALSO! I wanted to announce who one my Black Friday Giveaway! So, being silly, I made a little video for you guys to announce it!
Congratulations Marisa (I'm so sorry I probably mispronounced your name)! I'll be emailing you shortly :)
Until Tomorrow,
Nicole