Hello there! So, it's still extremely snowy. I almost didn't take pictures today, as I'm a little bound to my home at the moment, but after two days of leggings and a big sweater, I kind of needed to get dressed up. And now that I'm not wearing the same stretchy pants I've been wearing forever (too much information? oh well) and am in a dress, I am feeling a bit more rejuvenated! I know today's photos are a bit dark, but my ability to find well lit photo locations is limited at the moment, more because of my lack of desire to travel anywhere by foot in two feet of snow than by the actual snow.
While I have been stuck in the house for three days now, and am getting entirely stir crazy, these snow days have given me a push to get some more reading done. I love reading, but unfortunately I get sucked into a computer screen more often than I open a book. But lately I've been wanting little more than to
leave my house
snuggle up with some good reading. I so thankfully got two David Sedaris books for Christmas, and I've been reading one of them since I got it - Dress Your Family In Corduroy and Denim. He is absolutely one of my favorite writers and he is remarkably funny. I think his work is the only literature I've read recently that made me laugh hysterically for a few minutes, and then again at random moments throughout the day. Who are some of your favorite writers? As a writer and literature nerd I would love to know :)
Dress: Salvation Army
Sweater, Belt: Delia's
Boots: Urban Outfitters
Socks: Target
Hat: Forever 21
Necklace: Gift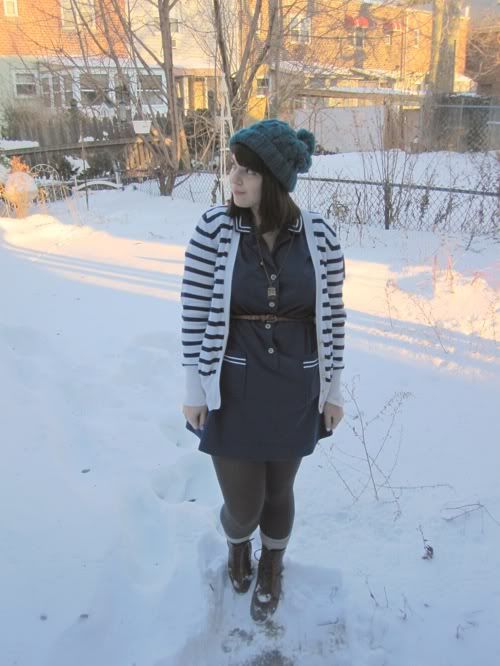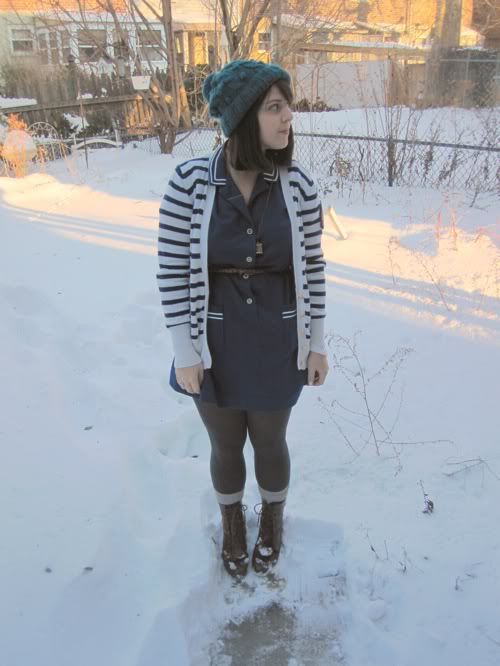 Seems like the fake penguins in my backyard are finally feeling at home.
Until tomorrow (hopefully with less snow),
Nicole