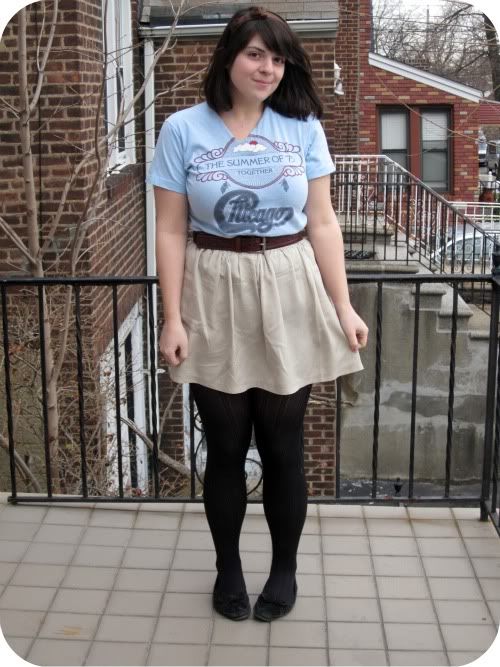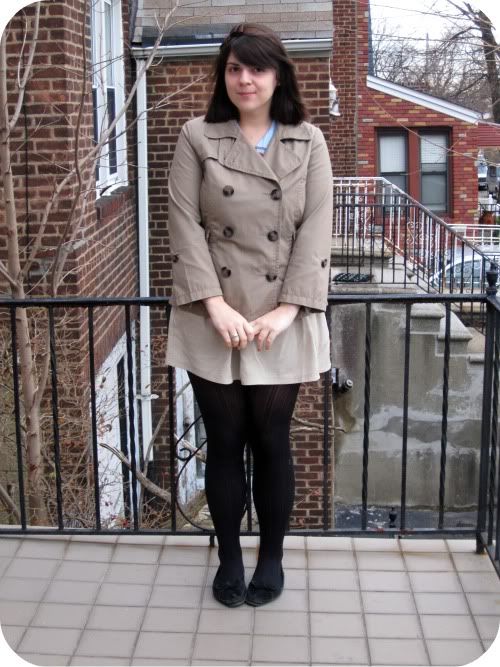 Hello there! I hope you had a wonderful weekend! My weekend was spent getting work done and finishing up papers and poems. I'm happy to say that I'm done with work for the semester. Things just need to be printed and stapled and handed in at the end of the week. I of course got some fun in, though, eating Christmas cookies, listening to Christmas music, and spending some much needed quality time with Zak.
Since the only reason I had to leave the house today was to meet with one of my teachers, I kept things pretty simple. I've been wanting to wear a skirt with a tee shirt, so I grabbed my (formerly my mom's) old concert tee from a Chicago/Beach Boys concert in 1975 (so cool!), and threw it on with a skirt. I met with my teacher today to talk to him about possibly dropping one of my yearlong classes. I've talked about my philosophy lecture on my blog before, but it just really stresses me out and makes me question my abilities and intelligence. My teacher was very helpful and understanding, and I think I'm going to try and stick it out for the rest of the year.
It's kind of funny. Right now, I'm
supposed
to be worried about my final papers and projects. But I'm not. Instead, I'm worried about a bunch of other things, like this class, as well as things concerning friendships. I was invited to a party on Friday by one of my friends who was having a get together at her house. I told her I would like to go, but then she told me there would be a bunch of drinking, leading to my polite taking back of my rsvp. I am not naive. I know people my age drink, and often. The problem is that I don't. I have no interest in drinking, hanging around those who do, or seeing any of my friends drunk. This makes things difficult. Sometimes I wish I was like a normal teenager (almost twenty now), that I drank and partied, because it seems easier that way. Easier to make friends, and keep them, and have fun. I know I wouldn't like that lifestyle, though, which is why I don't take part in it. It's just not who I am. I want to be able to have a good time with friends without getting drunk. Maybe I'm just too naive, I don't know. Do any of you have this sort of conflict?
Top, shoes: Mom's old
Skirt: Urban Outfitter's
Trench: H&M
Belt: Target
Headband: Claire's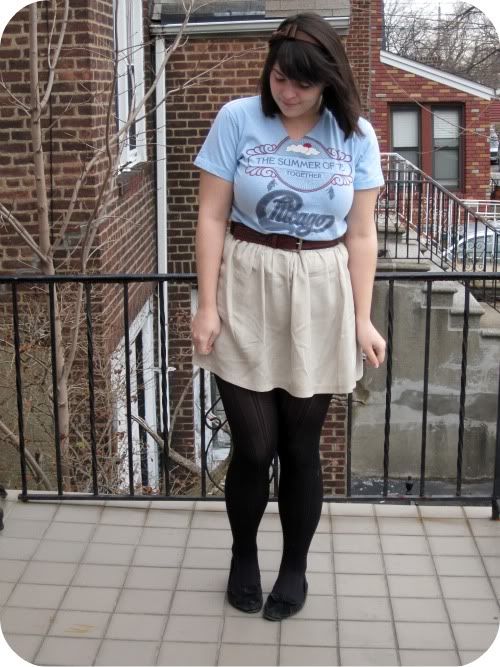 Until tomorrow,
Nicole