Hello there! Sorry for the lack of update yesterday. My outfit...fell apart. Well, not really. It more-so grew than anything. You see, I've lost a bit of weight so some of my clothes fit a bit strangely. I put on skinny jegging-esque jeans and a cardigan (buttoned up, of course), and everything was swell. Everything fit allright. But as the day dragged on, and boy did it drag, my clothes started to grow and stretch. By five-o-clock, it looked as though I had shrunk (I didn't for the record). So I deemed the outfit un-photographable and changed into pajamas. BUT, I'm back today with a non-growing outfit! Hooray!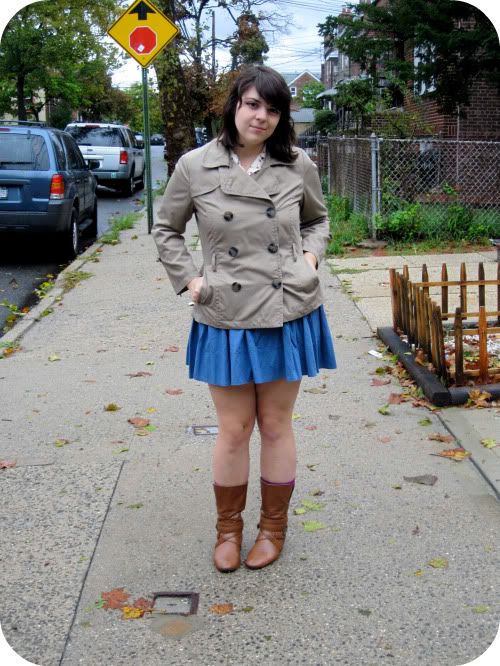 Shirt: Thrift, Skirt and Trench: H&M, Belt: Target, Boots: Delia's, Purple socks that you can barely see: We Love Colors
Today is the first day of October, and, appropriately, it's the first day I deemed cold enough to wear a jacket. Since it was still tropical-stormy out I went for some darker colors, mainly in the skirt. I just got two pairs of little socks (in purple and ivory) from we love colors that I'm looking forward to pairing with heels and oxfords, but I put the purple pair on with boots today since they happened to match the flowers on my shirt well. You can barely see them peeking out, but I thought it was a nice little unexpected pop of purple.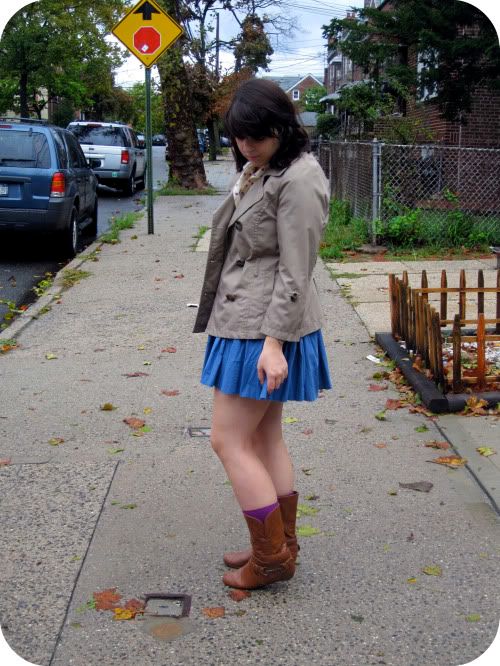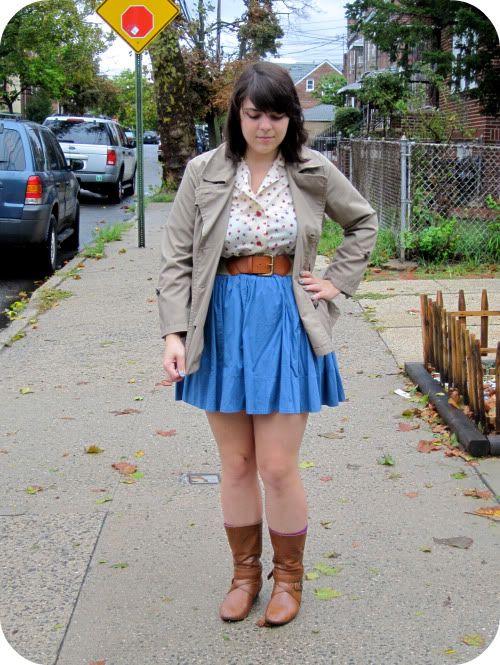 I also did a little bit of thrifting today! I headed up to a new Goodwill that seriously just opened. It was super clean, organized, and big, which was nice. The only problem I really had with it was there were a lot of "sample" items from big name stores like Ann Taylor and Target. Don't get me wrong, I loves me some cheap Ann Taylor Loft tops, but a lot of the shirts had "SAMPLE" written on the back in what seemed like sharpie marker, and I wasn't sure the stain would come out so I didn't get any of those. I did, however get a cute floral belt (that it looks like someone handpainted), a gray blazer (FINALLY), and a cozy sweater, all of which seemed to be donated by people rather than stores. I can't wait to wear them/show them to you guys! I also explored the AMAZING home decor department, which had so many cute, kitschy items. I took a few pictures of my favorites: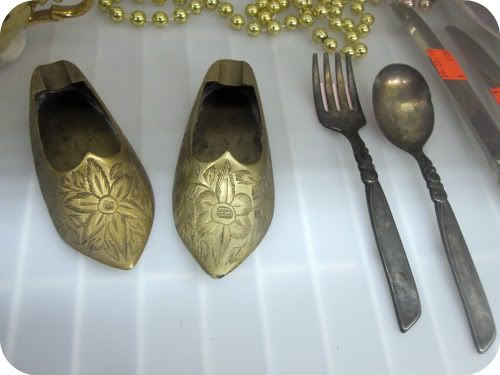 Tiny shoes...next to tiny utensils!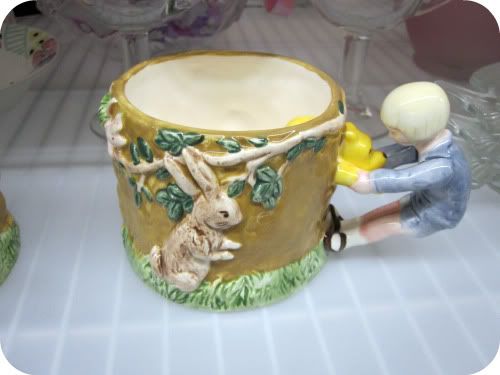 And an adorable Pooh Bear mug that I wanted so bad.
Anyway, I have a WHOLE mess of work that I need to be doing but don't want to, which is causing me to feel overwhelmed. Hopefully I can find at least some time to relax this weekend. I hope you all have lovely relaxing weekends :)
-Nicole