So, I do own red lipstick, but I hardly ever (never) wear it. I tend to think it makes me look a little...like a whore. I've seen it look so wonderful on so many girls but for some reason, whenever I push myself to put it on, I almost immediately wipe it all off. Today, though, I donned my little red shoes and decided to screw my whore-ish self perceptions and put on the lipstick. Was I a little uncomfortable? Yes. Did I still think that anyone who saw me would think I look like a crazy person? Yes, but I've gotten used to that one. I think it ended up alright, looking at the pictures. The rest of my outfit was so simple, since I'm not doing much today, that I figured why not put on the lipstick?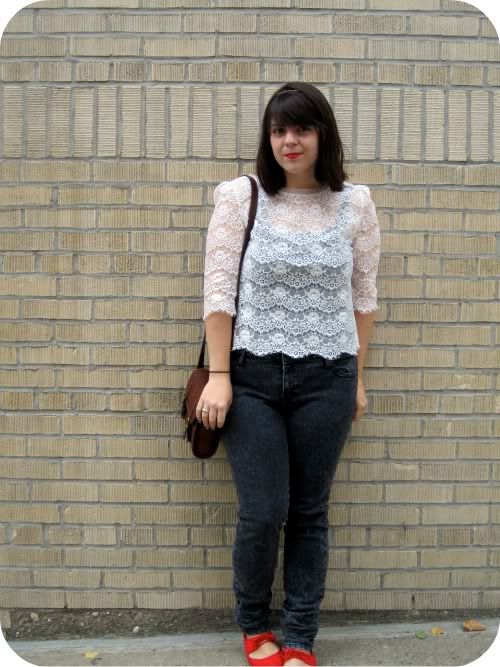 Jeans, bag: Urban Outfitters, Top: Forever 21, Shoes: Restricted
I don't like to talk about my weight loss all that much since I really rarely notice a change since I've lost thirty pounds. I know that I'm down about two sizes and that everything fits better, which is clear evidence that my body's gotten smaller, but I hardly ever
see
a real difference. Today was one of the rare instances I did. These jeans are too big on my waist, I used to be unable to button them. That's not where I saw the difference though. I really just saw it in my hips. I never noticed it before, but I lost a lot of hip since I started dieting. My hips seem so slim to me now, instead of sticking out on both sides. I've always liked my hips though, so it's a little weird to realize they've shrunk. I know I certainly still have hips, but it was just such a strange thing to actually see a difference in my body.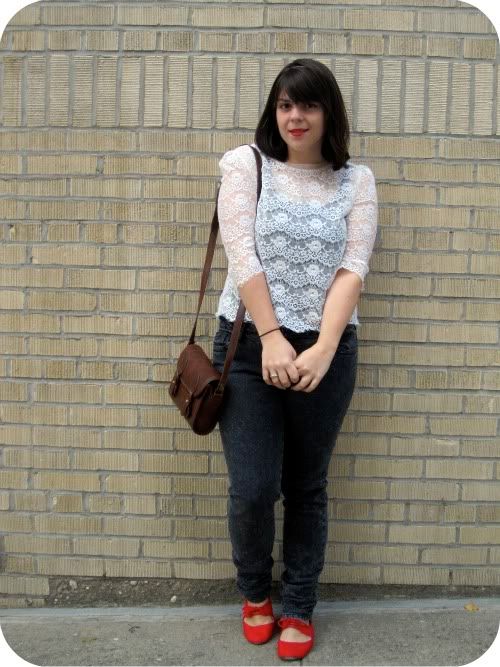 Anyway, I hope you all have the best weekends! I'm hoping to do some thrifting for my halloween costume (and maybe a little for my wardrobe too!) and finally go get a pumpkin to carve!
-Nicole