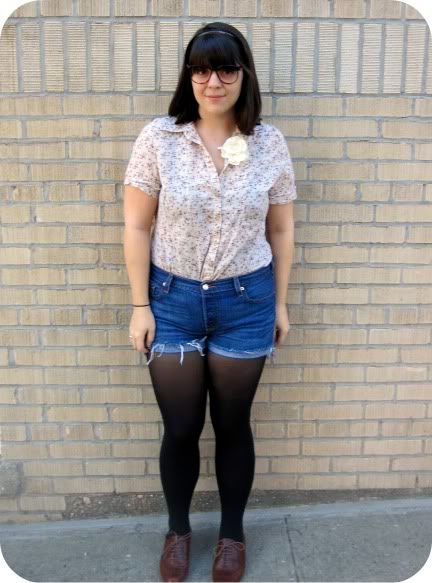 One day, a good friend of mine was talking to me about the hipsters at her very hip college. "They're all wearing tights and shorts. I don't understand. Just wear pants if it's cold and wait until it's warm enough out to wear shorts." I just laughed and nodded, while secretly - and slightly shamefully - recalling the few times I had donned tights and shorts. To be perfectly honest, she made a valid point. Just wear pants when it's cold and keep the tights with the skirts, because there really is no longer, cool-weather appropriate alternative...except maybe a long skirt? But anyway, I digress slightly.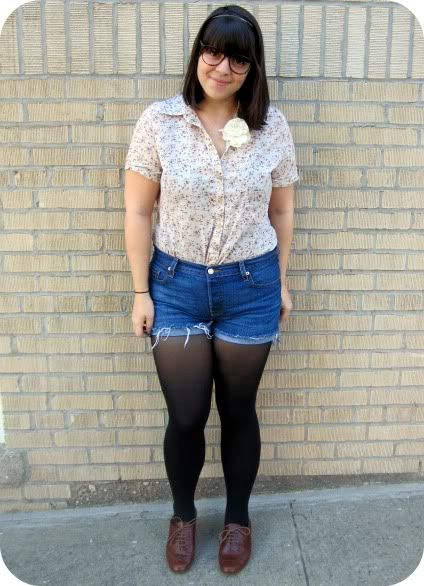 Top: Nordstrom Rack, Shorts: Levis, Tights: Hue, Oxfords: Steve Madden
I was stumped today as to what I wanted to wear. My good jeans were in the wash, and I didn't want to wear a dress or skirt because I simply wasn't in the mood. It's rare, but it happens. So here comes my solution, in the form of - you guessed it, or rather saw it in the pictures.. - jean shorts and tights. I realized as I was getting dressed that the jean shorts and tights combination really is a wonderful thing. For me, it's mainly a still warm alternative to jeans, which I find sometimes to be too constricting. With jeans and tights, only parts of my legs are in jeans and the majority of my legs are in super comfy, flexible tights. Problems, solved! Well, at least today's wardrobe related problems, solved!
I just wanted to thank you all again for being amazing readers and commenting on my poem. And I want to apologize again for being a terrible commenter. School's been so draining, but I will get to your blogs because I'm just being a sleepy wimp. Sleepy wimpery ends now!
Until tomorrow,
Nicole