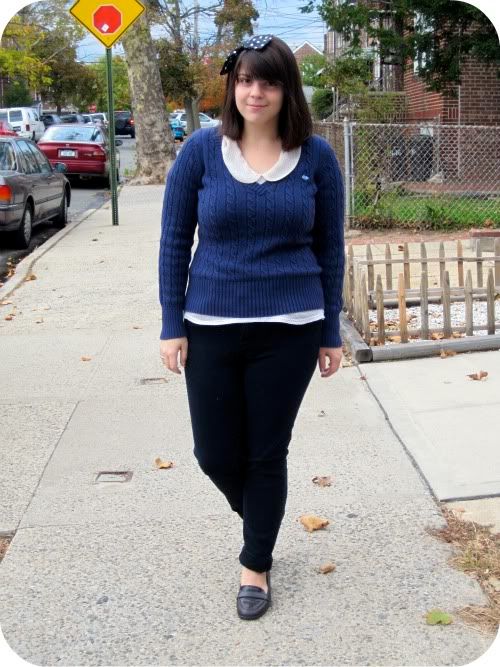 Hello there! So, I'm currently about an hour and a half into my four hour break, and boy do I feel swell! And by swell, I mean super tired and stressy, and by exclamation point I mean pathetic frowny face. I've been driving myself a little crazy lately with worry. Zak hasn't been feeling well, and I'm really worried and upset for him. I'm considering trying to get a job but I selfishly don't want to give up my free time but also would really like money. I also still feel like an idiot in my philosophy lecture. We're getting our papers back and I'm positive I did badly. Despite this, I have a shred of hope that won't go away that I did okay. I would like for said shred to leave so I don't get all super let down once I get my paper back. AND since I'm the conductor of the complain train today, I am getting two papers assigned to me today, that will be due on the same day, and that day happens to be the day after my birthday weekend ends. AND SCENE.
Top, Jeans: Urban Outfitters, Sweater: Old Navy, Shoes: Mom's
I'm not sure how I feel about this outfit. I don't think it's a hundred percent me, but I really started this blog to take more chances with my clothes and get a feel for my personal style. This involves dressing up in ways I love, as well as some outfits that miss the mark. This one sort of came together. I put an outfit together to go take photos, but after twenty minutes of deliberating in front of my mirror, I decided it was not me, and I didn't like it. So I got back into my jammies. A few minutes later my mom comes into my room and tells me that people are coming to look at the house so I should really get dressed. Little did she know. So, upon getting dressed a second time, I ended up with a school boy-esque (save for the huge bow on my head) outfit that I did like, at least more than the first attempt.
Anyway, I hope you're all having good weeks so far!
Until tomorrow,
Nicole