Last night was a rough one. A lot of things that have been heavily weighing on my mind came to a head and I got really upset. But that was last night, and I'm trying to see things differently thanks to some very nice people, some of whom probably have no idea they've helped me out in any way. Speaking of anyway, last weekend I found a blazer at goodwill, which was exciting since I've been looking for a nice, gray blazer to wear instead of a cardigan with dresses and skirts. I actually initially left the store without it, thinking I would be able to find a nicer one, but once I left I kept regretting my decision, especially after my Salvation Army trip did not prove fruitful. So, I headed right back to that goodwill and found my lovely little blazer waiting for me! Hooray!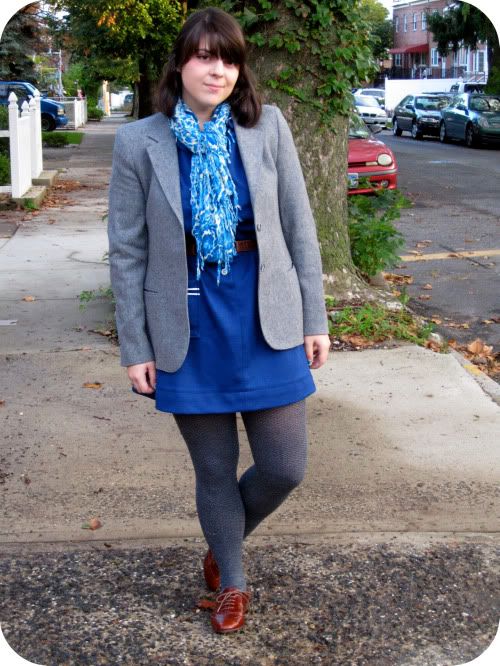 Blazer: Thrifted, Dress: Thrifted, Scarf: Macy's, Shoes: Steve Madden, Tights: Gift
I also really want to thank all of YOU, you lovely readers. Your comments yesterday were so supportive and wonderful, and I can't thank you enough for your encouragement and understanding. With the way I've been feeling lately, seeing all of your kind words is really helpful. Also, I've been thinking a while now about expanding my blog to include some of my poetry to share with you guys. I've been intimidated by the thought of it, but after realizing that hey this is my blog and I should feel comfortable posting what I want to post, and after hearing some of you express interest in my sharing it, I decided I will! I don't know how frequently I'll be posting poems, but I do have to write one each week for class so I think it will be somewhat frequent. My first one will be at the bottom of this post, and after the poem I'll give you a little summary of what I was writing about :)
(Untitled as of yet)
My eyes unfurl like white flags,
And I've lost myself,
Burying my eyes in
Your knees like maps,
Desperate for a new world.
You don't need to lift
My porcelain chin
With a single finger
Or brush my hair
With an extra four
Or whisper that
I Am a goddess,
But I just don't know it yet,
Or that my only limit
Is a locked box
Of insecurities, recreated
After every honey laden
Compliment dangles the key.
But I know you will.
Lifting me up by my waist,
You hold me, like an infant,
Drifting in our shared hope that
Your grace and waning strength
Are slowly dancing
From you to me.
I wrote this just last night. My assignment for class this week was to write a one line poem, and this evolved from a failed one line poem I had written. It just sort of...happened, so I'm not too sure how I feel about it. And because of that, I decided to share this one with you. I hope you enjoy it, and if you don't it's completely fine with me as well. Well, I'm off to work, which includes writing a one line poem (Boo!). I hope you all are doing well <3
-Nicole