Hello! So, yes I am feeling a bit "all mixed up" lately, but the title actually - surprisingly! - refers to my outfit. I woke up a whole half hour late this morning (due to a lack of sleep due to fear of the Cape Cod house because I'm a big wimp) and knew I wanted to wear this dress because it's so super dooper comfortable. However, the two sweaters I would normally wear it with were dirty and I didn't have time for experimental layering. SO, I found this little zebra-stripe-esque cardigan in the back of my closet, and I think it worked out pretty well considering my time/creativity constraints.
Dress: Urban Outfitters, Cardigan: Volcom via Pacsun, Boots: Delia's, Belt: Target, Tights: Hue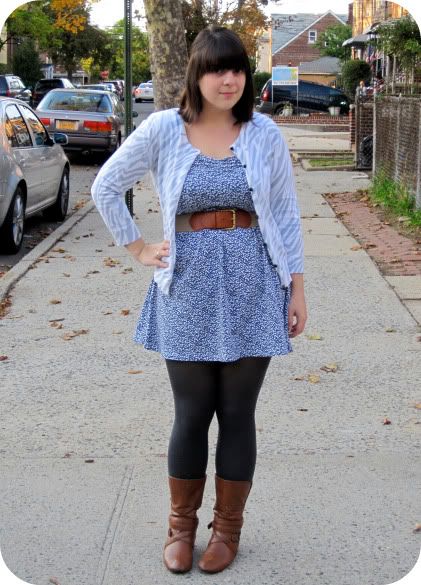 I'm so so tired right now, so I think I'm going to keep this post short, which I apologize for. BUT, I just decided five seconds ago that since this post is so short, I'll share another one of my poems. I wrote this one for class a few weeks ago. The assignment was to write an ode, and this is what I wrote :)
Sparrows on Wire
I saw you sit your
Golden ribbed
Walnut bodies delicately
On your electric perch
Despite the slick
Of the downpour.
With the grace of two
Tiny dancers
You leapt from
Wire to wire,
Hardly flapping
A silver dusted wing
To steady yourselves.
You picked the best one
And settled your
Bronze plated
Blooming breasts
To carry on your
Silent conversations
Concerning brilliant
Things I will never know:
The shadiest nook,
Most scarlet leaf,
Juiciest worm.
Until tomorrow,
Nicole