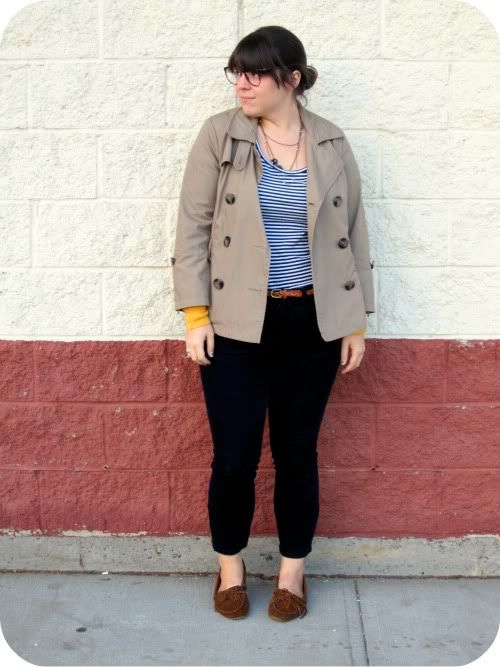 Hello there! So, I'm quite proud of this post's title. In one sense, I'm wearing a whole lot of navy today. In another sense, I'm wearing nautical stripes. Hooray for double meaning! I'm probably too proud of myself for coming up with that. Anyway, Thursdays are quickly becoming "comfy Thursdays." Thursdays are my longest day at school as well as the last day of my school week, so while I do enjoy looking put together, I'm also quite concerned with being cozy and warm during my four hour break in the library. I think today's outfit was a nice medium of comfy and not completely slovenly.
Top, Sweater, Trench: H&M, Pants: ESpirit, Moccasins: Minnetonka, Belt: Delia's, Necklace: Swap with Amber Rose
I was looking at yesterdays photos again and I realize I didn't really like my outfit. It's just that dress. I bought it and thought it was really cute, when in actuality I was probably just overjoyed that it fit. When I first starting losing weight, it was hard to differentiate between whether I was buying things because I really liked them and they represented me or if I was just buying them because they fit and wouldn't have before. This dress is one of those things. I feel bad that I don't like it on my body, so I keep trying to find ways to wear it, but all it really does is make me feel self conscious about various parts of my body. Do any of you have clothing like that? Where you bought it for a silly reason, felt guilty, and thus try to wear it despite not really liking it? I know that's really specific, but I figure maybe some of you have been in that situation.
Until tomorrow,
Nicole