Hello there! I am about ready for this week to be over! Tomorrow is going to be an extra long day and I'm going to hit extra traffic, but at least my weekend will be here. Speaking of which, I may be going to Cape Cod this weekend! The prospect of this excites me SO MUCH. I'm not sure why, but to me Massachusetts is synonymous with Autumn. I've never even been to Massachusetts in the Fall, but Cape Cod is always so lush with trees that it just makes me so excited to jump around in big piles of leaves! I hope I get to go!
Sweater: Top Shop (gift), Skirt: American Apparel, Tights:?, Oxfords: Steve Madden
I just wanted to thank you guys for reading my poem and giving me such lovely feedback! You're all so wonderful <3
As for today's outfit, I actually put it together a while ago and was just waiting for the weather to be chilly enough to wear it. I've never worn this sweater before, though I got it for my birthday last year (and now it's almost my birthday again!). It was always a bit snug and it's made of super clingy material, so I always felt kind of self-conscious wearing it. But when I paired it with this skirt, I thought it looked pretty nice, so I just went with it!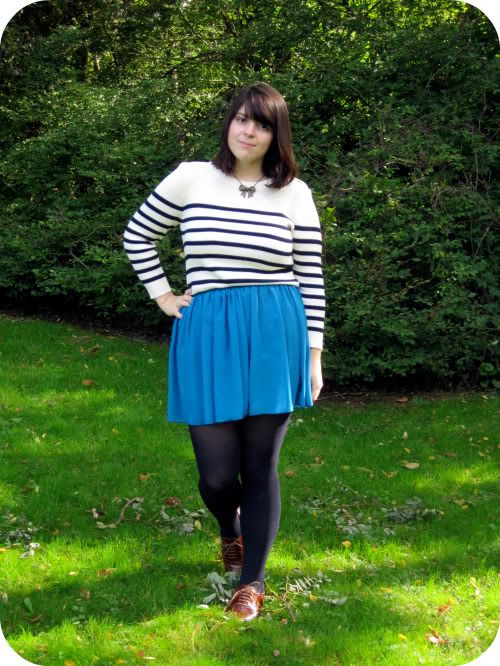 Zak took my pictures today. You can tell by my silly smiley facial expressions and the amount of pictures I have. He's over now, and we just broke into "Make 'Em Laugh" from the movie
Singin' In the Rain
. Since I didn't have a post title yet, I figured that would work :)
Until tomorrow,
Nicole