Hello there! So, I have been incredibly MIA this whole weekend, and I'm just as incredibly sorry! I've had a hectic past few days, and I foresee myself having a hectic week and next weekend as well. On Friday, I had an interview with The Poetry Brothel, and am now their intern! It's rather exciting, and I just hope I can do a good job for them! Yesterday, I wore this outfit, and did a lot of eating and a lot of work. In the morning, my parents and I headed out to a lovely little farmers market. It was too good. Seriously. I came home with a small loaf of pumpkin bread (DELICIOUS), a quiche (DELICIOUS), and a chicken pot pie (SO DELICIOUS). Just to clear my name, I didn't eat all of this in one sitting. Maybe two, though. And I shared! Maybe.. Anyway, there was also a small church run thrift store right nearby where I picked up two dresses for eight dollars total that I can't wait to wear! They're about midi-length (if I'm using this fashion term correctly?) And I really like how they look. I generally opt for shorter dresses, but I like these the way they are! After that, we got hot dogs at this semi-famous hot dog stand, Walter's hot dogs, and later that night went out for dinner at the Black Whale again. I told you I mostly ate! Throughout the day I also did a whole mess of work. I had (read have) a ton of homework, my first assignment for my internship, and some things to do for the poetry festival next weekend. My head is absolutely spinning! I'm going to try to keep commenting on your blogs, but if I fall apart this week, just know that I love you all and your wonderful blogs, even if my comments are lacking!
Also, just a few things to mention! The lovely Vickie of
Adventures in Fashion
chose me as her Sunday Spotlight blogger! When I found out, I was just so excited! Thanks again Vickie. Also, I've reached 200 followers (or at least I did when I last checked)! So, hooray! Be on the lookout for a giveaway soon :)
Top: Nordstrom Rack
Pants: H&M
Shoes: Urban Outfitters
Bag: Giveaway prize from Myriam at
Myriad of Mischief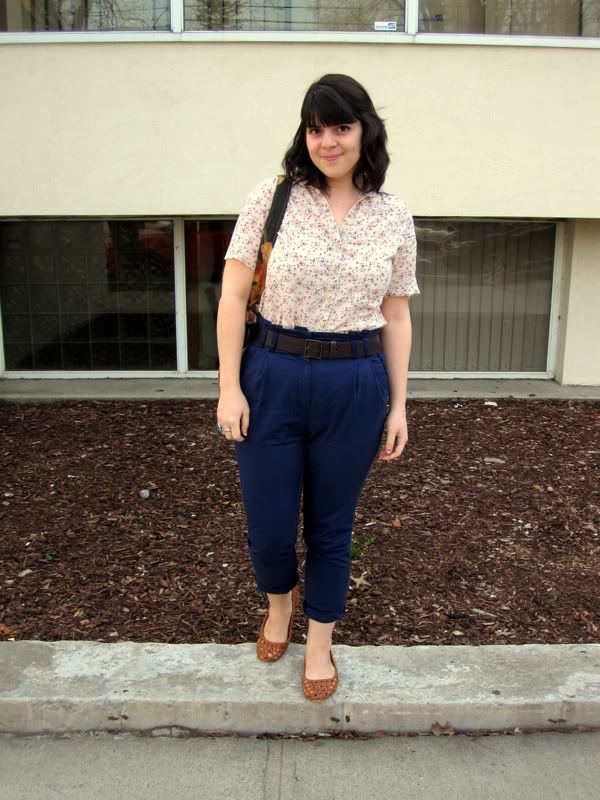 Tiny pies from the farmers market! I just had to include them. They were too cute not to post!
Until tomorrow,
Nicole