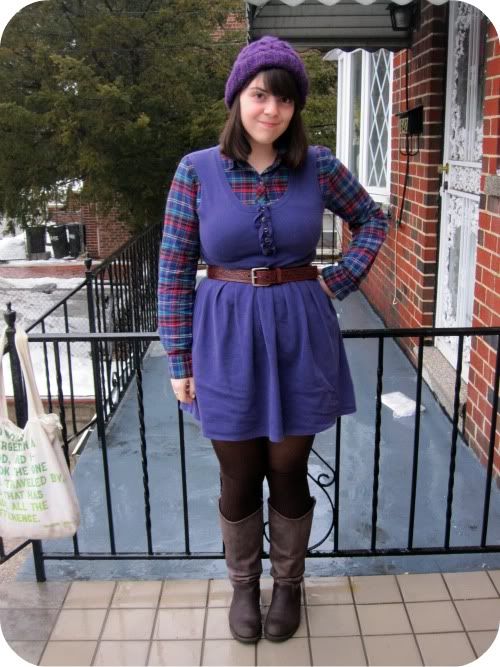 Hey there! I spent my whole day today running - read, delicately trudging - around campus trying to interview for classes. While the weather forecast I saw last night called for forty one degrees and cloudy. What I got was icy death rain. It was...an adventure? The most adventuresome of it all was walking up and down - successfully, may I add - my campus' steepest hill, that was covered in ice. Oh, and the banister was also covered in ice, which was really helpful in steadying myself. Luckily, it seemed that at every stop on my journey I found good company to travel, brood, and nearly slip with, and that made things much better (but no less icy).
This is about as practical an outfit anyone's going to see from me, I think. I put on my sturdiest boots (I kept almost typing "boats" instead. A mistake? I think not) and extra socks...and, you know, a dress. This dress is actually one of my "guilty dresses," a term I coined just now to describe dresses I buy then never wear. The other day, I decided my wardrobe needed more jumpers to layer shirts under, so I chopped the sleeves off of this dress, and I like it a bit more now. Semi-solutions!
Oh, and before I forget! I thought this bag deserved to be shone. I picked it up a few years ago from South Street Seaport when I was super into Robert Frost. I still think he's a swell guy, though I've read much more poetry since then, and this is one of my favorite bags that I don't use often enough.
Top, Dress: Urban Outfitters
Tights: Hue
Socks: Delia's
Boots: Steve Madden
Belt: Target
Hat: Hot topic?
Until tomorrow,
Nicole