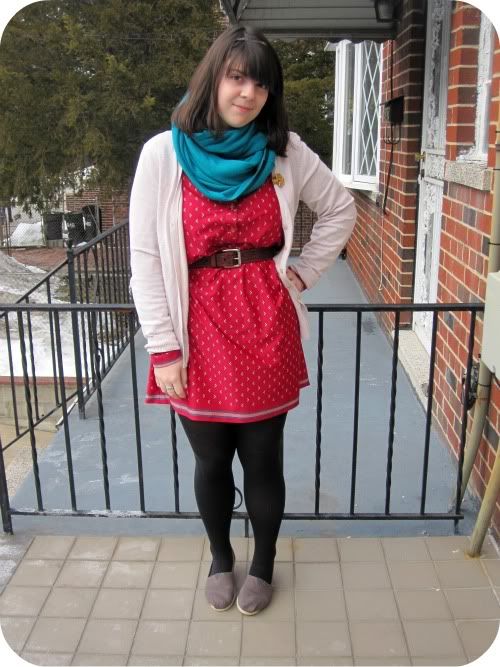 So, today is my last day of winter break. Tomorrow, it's back to super crazy registration process (though running back and forth around campus does make me feel purposeful) and then class. I'm not going to be all "I just need one more week!" because if I could keep saying that and having it keep happening I don't know that I would ever get a degree in anything. Well, it would probably just take me a really long time. I think the whole not wanting to go back thing stems more from my own fears of not being a good enough student (mainly for one class, as most of you know) as well as an uncomfortable feeling of regret as break draws to a close. It's kind of always this way, though. Make big extravagant plans to bungee jump and join a circus and road trip around the entire world, which isn't even possible (or is it?) but you get my point. Then break ends and it's just this feeling of...oops. I don't like this "feeling of oops," not one bit, but it seems like it's always around. Break has provided me with a lot (too much) time to roam the many dead end streets of my brain, and I've overanalyzed and re-overanalyzed a lot of aspects of my life. If there's one reason I'm thankful for school starting up it's because it'll give my brain something to focus on other than itself. I'm naturally a worrysome, thoughtful person, so with enough time on my own I start to doubt myself. And I've done that a whole lot in the past week. But, I like to think that I'm coming out the other side, at least for now. I know what I want. I know that I need to stop imposing standards on myself, standards that I'm CONVINCED people have for me when they don't. So, I'm just going to convince myself that I'm eager for this new semi-fresh start that I've got here in front of me.
I spent today, much like the other days of my break, just running some errands. I'm all out of Criminal Minds episodes on my DVR, but if I wasn't I'm sure that would be on the agenda for today. Also, this doesn't have much to do with today per say, but on Friday I'll be going to a concert, my first in a long, long time. As some of you know, I used to be super into the pop punk, emo thing, and I really went to small shows all the time. Now though, I'm kind of feeling...elderly? I'm going with my friend/brother to a Bayside show, mainly because he's never been to one, and by the time I was his age I had been to probably at least five. I figure he deserves a chance to see a band he loves live, because it kind of is a wonderful experience. Originally, I was griping about the sweaty people and the crowds and the getting smooshed into body parts and walls, but then I realized I sounded like an old man. I'm nineteen, and damnit, I should act like it sometimes (but only sometimes, because other times I'm content with at least dressing like an old lady)! This has been so ramble-y! To be frank (I used this phrase like eight times on Christmas Eve when talking to family members I don't see often. I can't explain why, it just happened), I've been a bit of a downer this week, but this is me trying to realize that, at least to a certain extent, I have the choice whether or not to be happy about things life throws my way, and I really should try to make the less downery choice.
Dress: Salvation Army
Sweater: H&M
Tights: ?
Belt: Target
Scarf: Macy's
Shoes: Toms!
Until Tomorrow,
Nicole