So, I've repeatedly stated my determination to not give in to twitter. I spend enough time on the internet as it is, and most of my tweets would probably be me whining about being hungry. However, in the past few days I MAY have briefly toyed with the idea of getting one. In the past few weeks, I have been watching a whole lot of criminal minds. It seems that once I decide I like a crime drama, I need to watch as many episodes as I can (I'm pretty sure I've seen every episode of Law and Order:SVU. I'm also pretty sure this is a problem). It doesn't help that winter break has turned my into a very lazy person. Anyway, so yes, Criminal Minds is a very good show, with a lovely cast, which is what I think draws me to a show the most. So, how does this relate to twitter? Well, Matthew Gray Gubler is on Criminal Minds, and while I was watching an episode, I remembered coming across his
twitter
awhile back and that it was remarkably funny/a very good 140 character read. I remembered correctly, it seems, because when I made my way to his twitter a while ago, I couldn't stop chuckling over how witty and silly and wonderful all his posts are. The title of this post is one of his tweets, one that made me want to analyze the amount of corduroy in my own wardrobe/wear corduroy.
So, it turns out I don't have much wearable corduroy. I actually found a surprising amount of corduroy pants in my drawers (puns?), but they are now all 2-3 sizes to big and make me look slightly a youngin' who got into my dad's clothes closet again. So, I decided to wear this skirt, which is my favorite corduroy in my wardrobe, and which I wear more than I realize. The resulting outfit ended up making me feel like a corduroy bandito and/or vampire. So, I guess what I'm saying in this post is 1) Matthew Gray Gubler's twitter almost convinced me that I should also get a twitter, (I'm still surprisingly on the fence) and 2). Corduroy makes me want to dress like an outlaw vampire. Which could be just a vampire, depending on which one we're
talking about.
Oh, and I just wanted say a quick thanks to all of you who sent your well wishes to Zak. I just heard from his mom that the surgery went fine :)
Skirt, boots: Urban Outfitters
Shirt, Sweater: Forever 21
Hat: Modcloth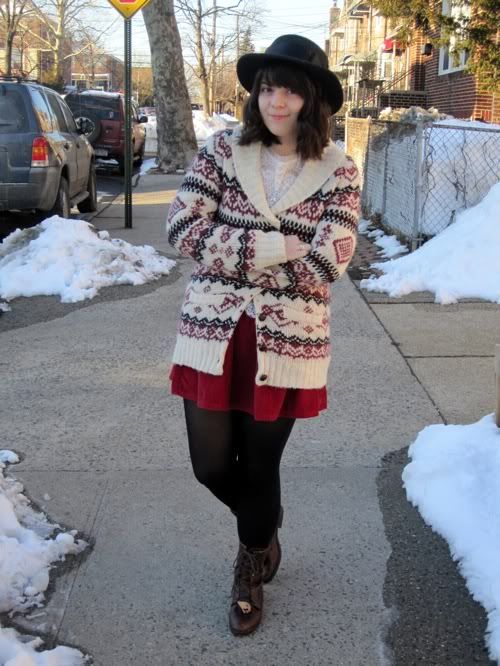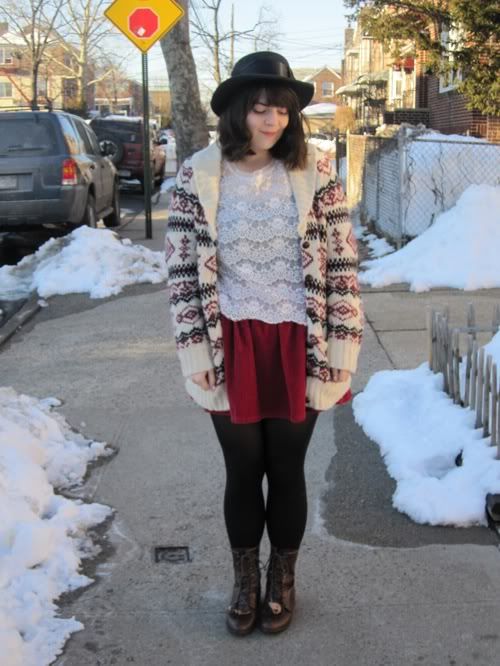 And then, it got really cold, and these happened: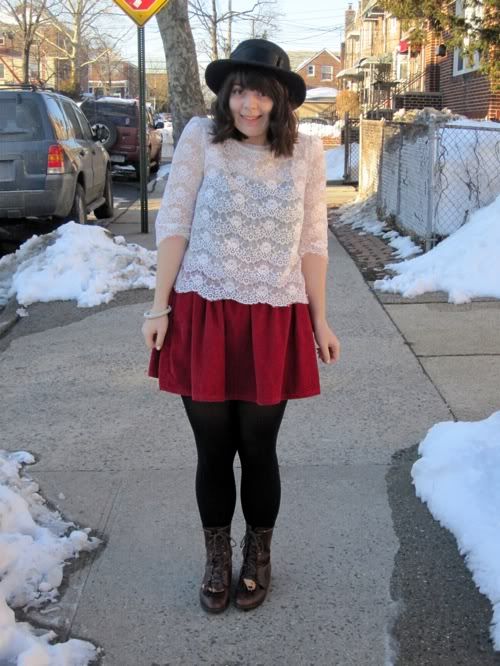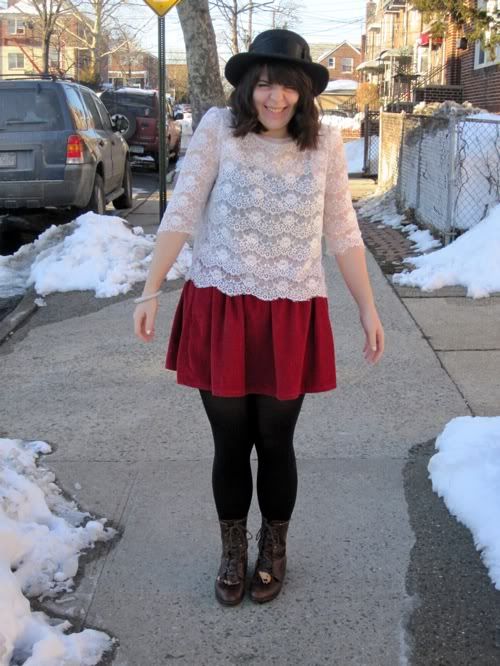 Have a great weekend!
Nicole