I'm home! After spending a week with my boyfriend's family at Cape Cod, I arrived home earlier today. I honestly had an amazing time. That area is so beautiful and quirky. The lake we swam in nearly every day was literally across the street from the house we were staying at. I kayaked (which was so much fun), tried to improve my swimming, and even got an extremely light tan (which no one has confirmed but myself, but who cares?). We also spent a lot of time mini golfing and driving through the little towns Cape Cod has to offer, which are jam packed with locally owned restaurants and stores. Seriously, it was so refreshing to see unique, non-chain stores since I live in new york city. I loved spending time with Zak's family as well. He has two brothers, and it was a lot of fun playing sports like football and water-baseball (a new creation) because I really didn't get the opportunity to do those things with my two siblings when I was a kid (my brother and sister are 7 and 8 years older than me, and my brother was not into sports at all). All in all, it was a beautiful time. I pretty much lived in shorts and flip flops, but I did manage to take a few photos of one decent outfit I managed to put together. One night Zak and I took a walk to the local general store, and the path to the store is beautiful. It's lined with trees and at certain spots you can see out over the water. Ahhh, I miss it already.
Tank top and cardigan: Delia's, Skirt: H&M, Sandals: Nordstrom, Belt: Target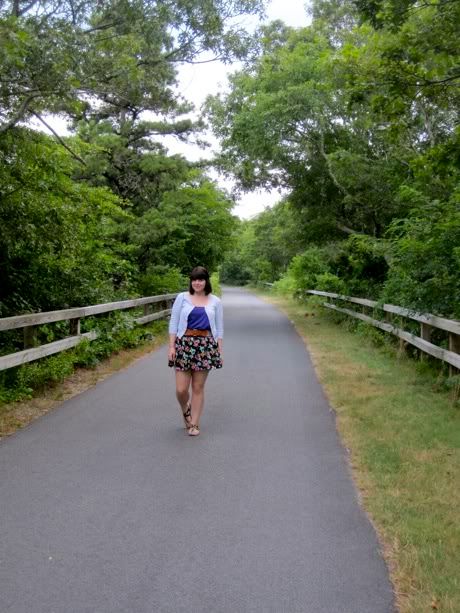 And, because I feel like it, here's a photo of me in a life jacket because I'm a big wimp :)
And now, to catch up on all of your lovely blogs!
Until tomorrow,
Nicole :)