Hello there! I'm sorry for my lack of outfits and updates, but I just headed back to school and have been pretty busy. My school is pretty strange. Instead of picking classes and making a schedule at the end of spring semester, we have a week at the beginning of the year (this week) where we have interviews with different teachers to pick our classes. So, I've been running around in the super heat wave, reading the class schedule, and trying to convince teachers - while sweating like a gross cow (do cows sweat?)- that they should want me in their class. OH BOY! It's really not so bad though. It's a good way to see if you get along with the teacher before you're stuck with them for a semester. My only problem is that I'm not sure exactly what I want to take. I know I want to take a literature class and a poetry writing class, but it's my third class that I'm puzzled by. Right now I'm looking at a philosophy class and a history class, so we'll see what happens.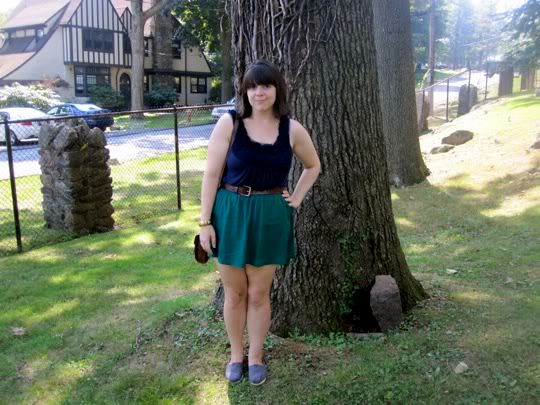 Top, skirt, bag: UO, shoes: TOMS, belt: Target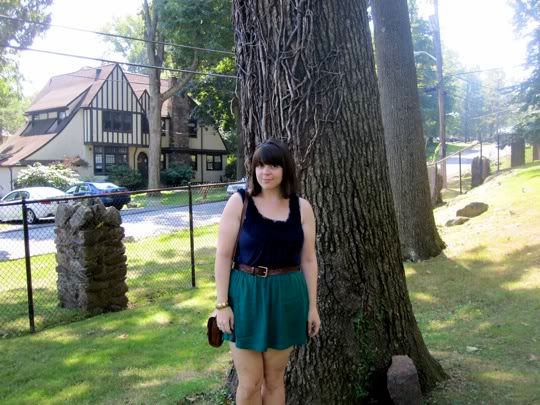 So this is my campus! It's full of lovely lawns and cool, old buildings. I think it's a really pretty campus, so while I was there doing interviews, I asked Zak (he goes to the same school as me) to take some photos. I had to say, though, that I felt a bit insecure taking photos on campus. Besides the fact that I still feel a bit uncomfortable taking pictures in public places, practically everyone (girls AND boys) on my campus is so well dressed. Seriously, they could all (and should, really) have their own blogs full of cute outfits. While it's cool, because it's inspiring to see so many cute outfits, it also makes me feel kind of insecure, like maybe my outfits aren't good enough to blog about. I know, though, that at it's core my blog is just a way for me to be a part of a really great community who likes the same things as I do, not to make me feel like I'm the best dressed person in the world. Do any of you ever feel this way, though?
Oh, by the way, I got a new purse! I needed a smaller one, so I bought one from UO
Well, tomorrow I'm scheduled for a few more interviews, then I have to put my schedule together, and hopefully I'll be done for the week! I hope you all are having lovely weeks :)
Until tomorrow,
Nicole