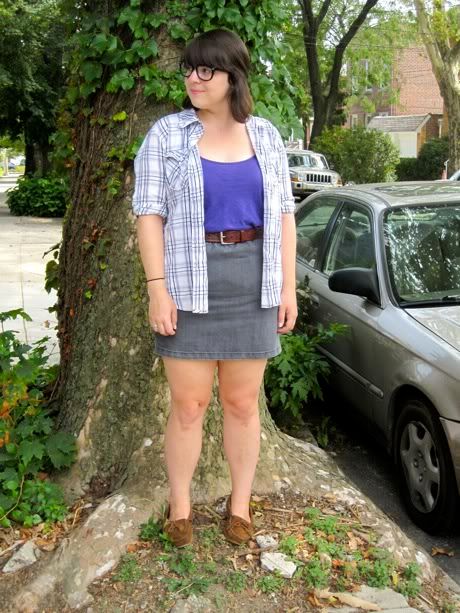 When I got up this morning, I put on a dress and a bow belt, and went downstairs. A few minutes later, I trudged back up the stairs and changed. There was nothing wrong with my first outfit, it just didn't feel right. It was really...cute, which generally, I really like, but for some reason I wanted to go in more of a nerdy, grungy direction and less of a cutesy one.
Skirt: H&M, Top and plaid shirt: Delia's, Belt: Target, Moccasins: Minnetonka, Fake glasses: Claire's
This whole outfit switcheroo made me think of how well who I am is portrayed by what I wear. I'm not sure I really have a definite style. If you look through my outfits, they all vary a bit. Some are similar, but for the most part I'm not sure what I would label my style as. It's not classic preppy, or vintage inspired, or super chic, or tough. It's kind of this one big amalgamation of all of these things. I generally just pick out things that I like and that I think look good on me or look good together, no matter what little style category the piece falls into. I like this system, and I think it works, but sometimes I get a bit envious of the girls who seem to have a handle on exactly what kind of style they have.
Do any of you ever think about this? About what your style represents you? Anyway, I hope you all had lovely starts to the week!
Until tomorrow,
Nicole